When I look on Google Maps, the neighborhood on Leroy Street along the edge of Greenwich Village, near the Hudson River, looks a lot tonier today that it must have been in 1993 when Sandra Scoppettone published her mystery I'll Be Leaving You Always.
Scoppettone's detective — lesbian private eye Lauren Laurano — is leaving the funeral home where she's been making arrangements for her childhood friend Megan Harbaugh, a murder victim.
And, as she's walking along the sidewalk, she comes upon a crowd gathered around a blue two-door Alfa Romeo with its car alarm blasting and blasting and blasting.
Laurano has been hired by one of Meg's three ex-husbands to investigate the killing at Meg's jewelry store, and things are getting complicated.
Meg's adult children — Sasha who is a drug addict and Blythe who was more than a bit overly aggressive sexually as a teen — are acting squirrelly. Laurano is blindsided to learn the reason for Meg's divorce of her second husband. She's pawed by a groping male hand on a subway escalator. A close friend is discovered to be a coke addict.
If that's not enough, she and her longtime lover Kip are having the sort of snits and snaps that bump up in any relationship (although the peacemaking in bed is pretty pleasant). Laurano is afraid of being left by Kip — after all, she's been left by Meg, the friend who'd known her longer than anyone except her rather dysfunctional parents.
But, at every turn, Laurano is finding out that there was much she did not know about Meg.
A meandering mystery
I'll Be Leaving You Always is a meandering sort of mystery.
Meg's murder is not one of those cases where the cops are failing to investigate. They're doing their job, and Laurano is picking around on the edges, able to discover some stuff because of her knowledge of Meg and her acquaintanceship with many of Meg's friends.
As a result, there isn't a great deal of intensity to Laurano's investigation. She's fitting it in here and there. She has a lot of other stuff on her mind.
As in many such books, there is another killing, but the victim is a bit player, not part of the story until his body is found and then not all that important afterward. So, there's not a feeling of escalating danger for the investigator or for others in the story.
The life lived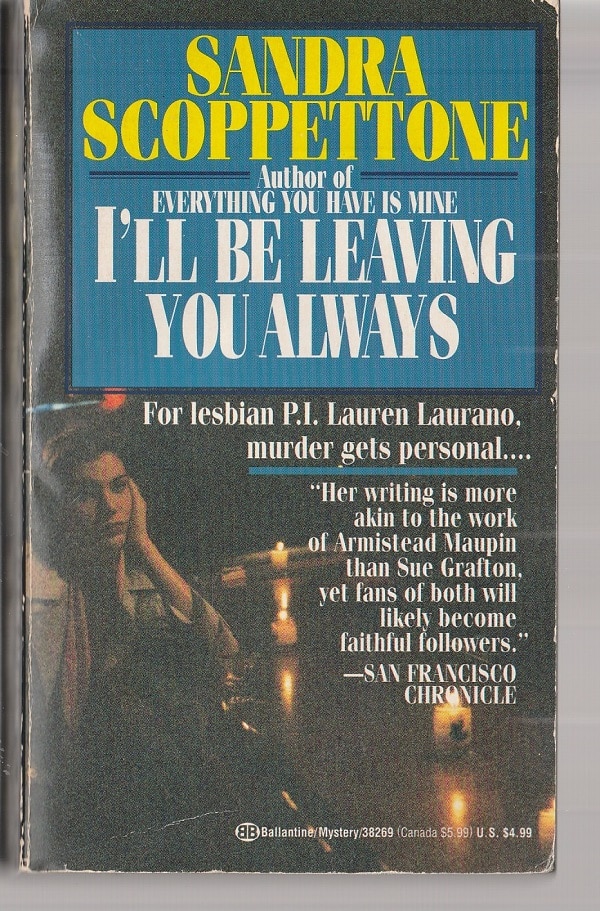 I realize that, as I'm describing it, I'll Be Leaving You Always is likely to come across as a fairly slack story with little intensity and little drive. But Scoppettone hasn't set out to create a gut-gripping page-turner with explosive twists and sudden shocks.
Hers is a novel about living a comfortable, connected middle-class life in Manhattan in the early 1990s.
It's about lesbian romance and affection, about the parallel but different experience of gay men, about being a short (5'2") woman in a male private investigator world, about being a 43-year-old woman in late 20th-century America, about friends with AIDS and dying of AIDS, about casual racism and casual sexism, about the color of pubic hair, and about the way it feels when, suddenly, everyone starts to tell you you're judgmental.
You don't read this novel to find out the killer. Well, of course, you do. But it's not the search and discovery of the killer that's important. It's the life lived — the life of Laurano and Kip and the other people in their circles, the life that the reader gets to share for 259 pages.
Killing a car
And it's about a car alarm on Leroy Street in 1993 New York — a hilarious scene that goes on for six pages as the crowd deals with the annoying rich car with New Jersey plates:
"Excuse me," I say to an elderly woman, who appears frail in her flowered housedress. She gives me the once-over.  "What?" Her scratchy voice sounds like an old 78.

"What's happening here?"

"We're killin' this fuckin' car," she says seriously.
And it goes on from there. At one point, Laurano shouts "Wait!" to a man named Lou as he approaches the car with a bucket of gasoline.
He stops, stares at me, puts the red bucket on the sidewalk. "Yo, whatdda ya want?"

"What are you going to do?"

"Kill this fuckin' car."
And so it goes, until the windows of the car have all been shattered and the vehicle has been burned and its gas tank has exploded.
That's why you read I'll Be Leaving You Always — for scenes like this, for the bickering of Kip and Laurano, for the 1993-ness of it all.
By the way, this scene occurs almost exactly halfway through the novel, and, in the back of my mind, I thought that, maybe, perhaps, it would turn out that the Alfa-Romeo would be an important clue to the identity of the killer.
Not. At. All.
Scoppettone just put it in for fun — her own and the reader's.
Patrick T. Reardon
6.23.22