When I picked up Jane Leavy's 2018 book The Big Fella: Babe Ruth and the World He Created, I was a highly motivated reader.
I deeply enjoyed her 2002 biography Sandy Koufax: A Lefty's Legacy, and I liked even more her 2010 biography The Last Boy: Mickey Mantle and the End of America's Childhood.
Moreover, I am a baseball fan, and what baseball fan isn't enthused about Babe Ruth?
And I'm a Yankees fan.
So why is it that, when I was reading The Big Fella, I mentioned to a friend that I was disappointed:
"How could anyone make Babe Ruth boring?"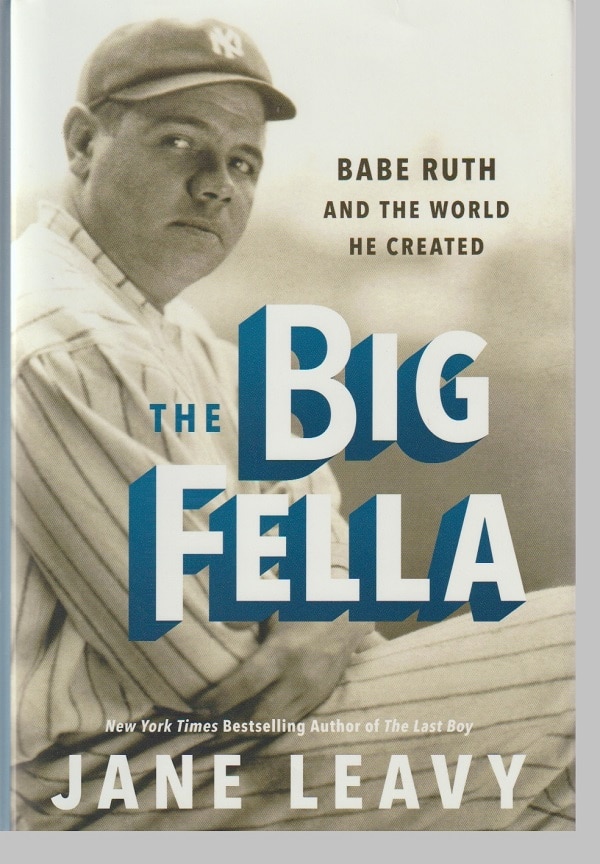 "A twenty-thousand-piece jigsaw puzzle"
Leavy's book is built around a detailed description of a barnstorming trip that Ruth and Lou Gehrig took after the Yankees won the 1927 World Series.  In her introduction, she describes her realization that she could construct her book along the chronological skeleton of this tour:
"I would re-create that month: round the bases with him in his jaunty Bustin' Babes jersey; follow him to Western League Park in Omaha; fill in the empty scorecard from Fireman's Park in Fresno, on display in a glass cabinet beside his jersey….

"I figured if I could do that, readers might forgive me for not documenting every pitch he threw, or home run he hit, or season he played in twenty-one years in the major leagues, which has been done admirably and thoroughly by previous biographers."
So, building on this skeleton, Leavy attaches a lot of information about Ruth's childhood, about his relationship with his financial adviser-agent Christy Walsh, about his wives and his girlfriends and his daughters, about his statistical status in baseball's modern numbers-crazy analysis and about many other aspects, as well as detailed descriptions and biographies of many of the people he crossed paths with in his tour and in his career.  She writes:
"I knew that writing this book would be different from anything I'd ever done before, like putting together a twenty-thousand-piece jigsaw puzzle."
For me
Publishers Weekly named The Big Fella as one of the top ten biographies/memoirs for the fall of 2018. And it was one of five finalists in the Literary Sports Writing category for the 2019 PEN America Literary Awards, and also in the biography category of the National Book Critics Circle for that year.
So, a goodly number of prominent literati liked Leavy's book.  I wish I had had the same experience.
For me, the barnstorming tour became a tedious device, especially with its long digressions about this pitcher or that shortstop who played in a game with or against Babe during the tour.
For me, the sections before and after the barnstorming descriptions got confusing because they moved up and down in chronology, with flashbacks and flashforwards. "What year are we in?"
For me, Ruth's financial details throughout the book were numbing.  They were more difficult to deal with because Leavy never tied them into who Ruth was in any coherent way.  What I mean to say, he was very lucky to have Walsh help him get endorsement deals and save money.  But what did it show about who Ruth was?  What did it mean to him as someone who came from near-poverty?  It's not that Leavy doesn't address some of this, but her comments are scattered through the book and seem scattershot as a result.
For me, the scattershot distribution of information about his wives and his womanizing throughout the book also meant that I had no sense of why Ruth was like this.
For me, the book was a jigsaw puzzle that didn't fit together.
Complicated, demanding
The fault may be mine.
Still, I have read a lot of complicated, demanding books, fiction and non-fiction, and enjoyed the challenge of keeping up with the author and the author's story.
I delighted in Leavy's first two books.   But The Big Fella, for me, was a slog.
Patrick T. Reardon
8.20.20