I'm a stranger here myself.
The Little Black Dress by Andre Leon Talley with photographs by Adam Kuehl is the elegant and lavish catalogue of an exhibition at the Savannah College of Art and Design (SCAD), September 28, 2012 – January 31, 2013. It is a glance at the history of the little black dress and, writes Talley, the expression of a new vocabulary.
Reading and savoring the images in this book, I realized that I'd long had the wrong idea about the little black dress…but so, apparently, had many other people, women and men.
There seems to be a good reason for that. Robin Givlan, culture writer and former Washington Post editor, notes ruefully in her essay in the book that, at one point, the little black dress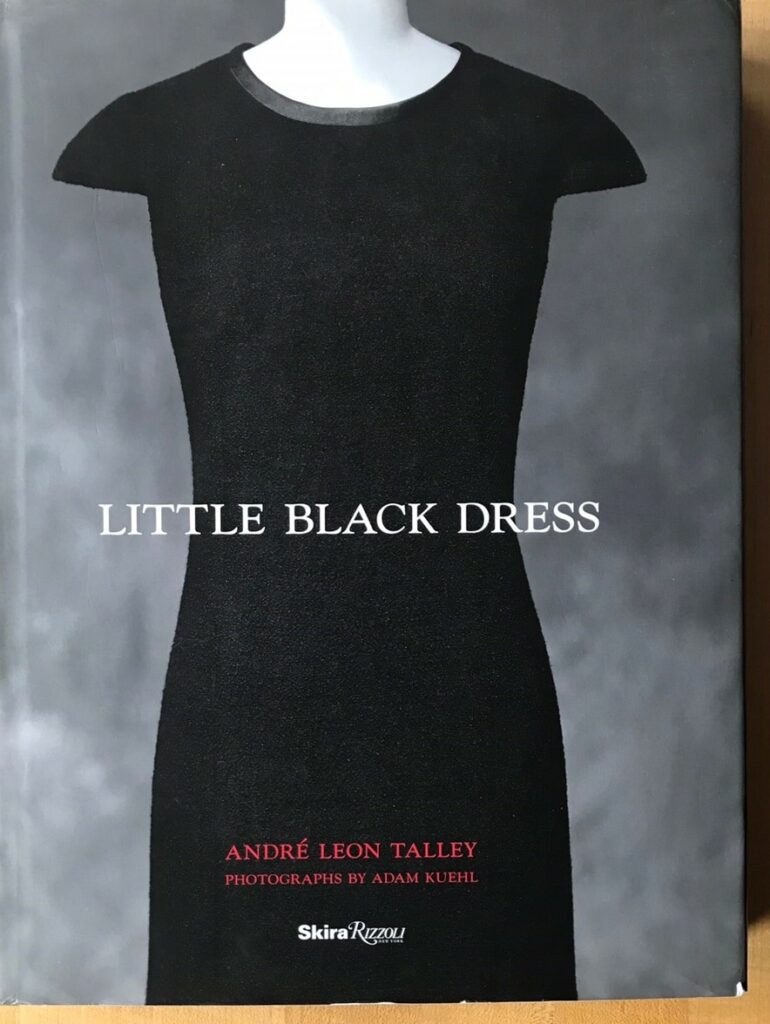 "gained the unfortunate reputation for being a reliable, but rather banal, fashion must-have. In countless books promising to help readers update their wardrobes or hone their personal style, the black dress was forced to share space with such bland garments as the crisp white blouse, the peacoat, or a pair of gray flannel trousers."
Givlan and other essayists, however, are at great pains to dispute that. She calls the little black dress a "coolly austere but audacious" garment that was "modern because allowed women to be both agile and comfortable."
"Ready for trouble"
Indeed, the sober-colored fabric isn't a way to "camouflage" the woman who wears it, but to highlight her:
"She was not dressing to fade into the background. She had demands, desires, and dreams. And she was dressing to be heard."
New York Times columnist Maureen Dowd writes of her later-in-life love of the little black dress after seeing the one worn by Natalie Wood in the 1963 movie Love with the Proper Stranger:
"The dress is very simple: three-quarter-length sleeves, belted at the waist, and down to the knee, but very sultry, molded to her delicate curves. It transforms her from an ordinary Macy's shopgirl in trouble to a sexy Manhattan career girl ready for trouble."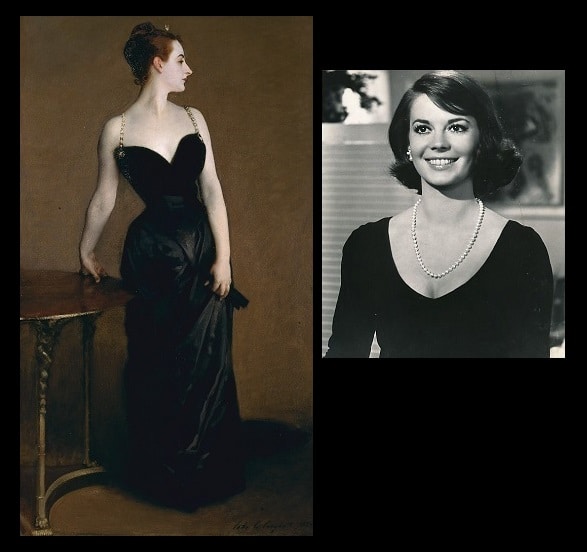 Nuns and scandal
Dowd's original aversion to the little black dress had to do with its blackness — "the color of scary nuns and garb for Irish wakes." In fact, writes novelist Gioia Diliberto, Coco Chanel was inspired to create the little black dress by Catholic sisters:
"It grew from the somber palette and simple lines of the nuns' habits and school uniforms the designer saw growing up as a charity case at the convent in rural France."
Diliberto has written several fashion-world novels, including The Collection, set in Chanel's atelier, and Madame X, the fictional memoir of Virginie Gautreau, the American woman who was the subject of John Singer Sargent's famous and, when first unveiled, scandalous painting Madame X (Madame Pierre Gautreau).
That painting is reproduced in The Little Black Dress, and it was one of the many lessons I learned from the book, mainly about how the little black dress doesn't have to be all that little or a dress exactly or, for that matter, only black.
In the painting, Madame X's shoulders and arms are bare and rosily pale, and the gown has, Diliberto writes, "a dramatic bodice with a plunging neckline and a slim, sexy skirt. It seemed made to be slipped off by a lover."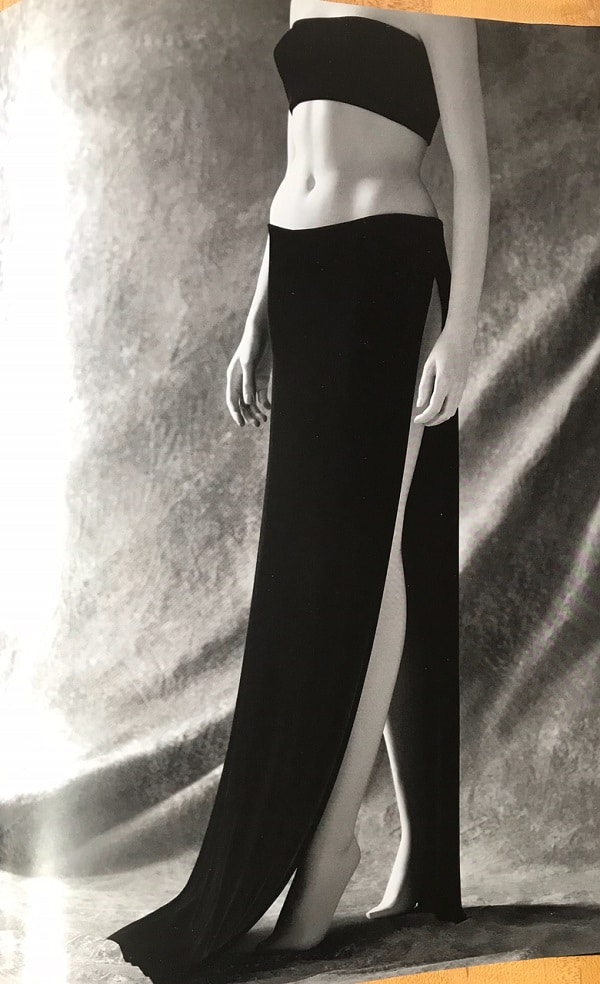 With so much fabric below the shoulders, this was a garment that could be called a big black dress, and yet, it fits into the spirit of the little black dress. The woman wearing it certainly doesn't fade into the background. Indeed, it is the epitome of the statement by designer Norma Kamali:
"Black is a definitive statement…nothing ambiguous like shades of gray. The little black dress allows a woman to become the color, the spirit, the life force."
Not a dress, not black
Interestingly, Talley offers several historical images, nearly all of women in a garb that isn't a little black dress, that inspired little black dress designs — Marilyn Monroe, Elizabeth Taylor in BUtterfield 8, Mourning Portrait of the Duchess of Alba by Francisco Jose De Goya, a Bond girl in a wet suit, Marie Antionette and even a Brancusi sculpture of a bird.
One of the many striking photographs by Kuehl shows a mannikin wearing a dress designed by singer Mariah Carey with Nile Cmylo that doesn't fit my idea of a dress (but what do I know?). It has a bandeau top with an Apache skirt.
And two little black dresses featured in the book aren't simple black. One, a 2011 design by Miu Miu, is an ankle-length wool dress with a couple dozen flying birds created by multi-colored sequins.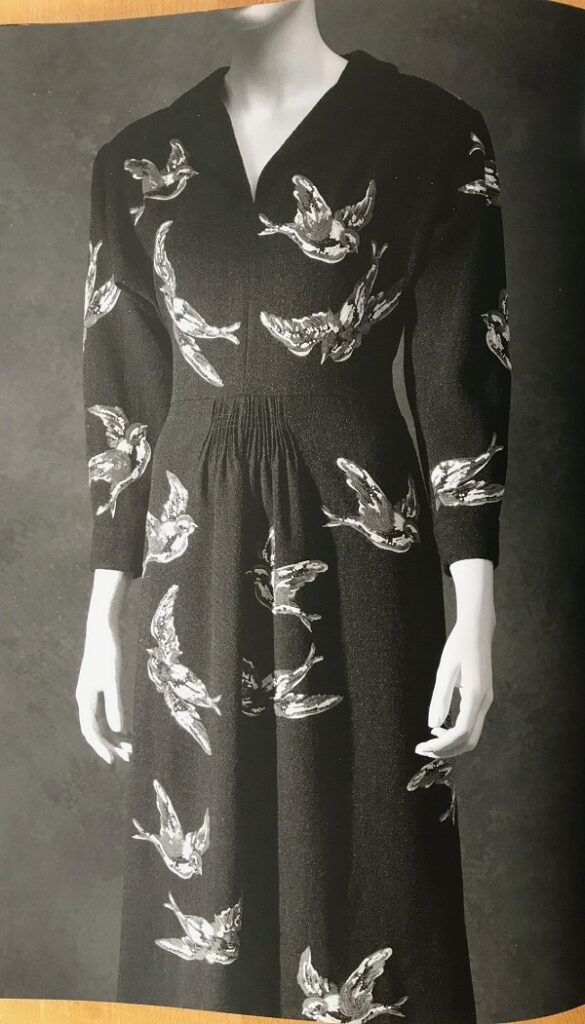 "Gold-leaf plumes"
The second, designed by SCAD student Victoria Wilmoth, is an hourglass evening dress of Duchess satin with "surrealist, super-elongated gold-leaf plumes printed on the fabric," writes Talley.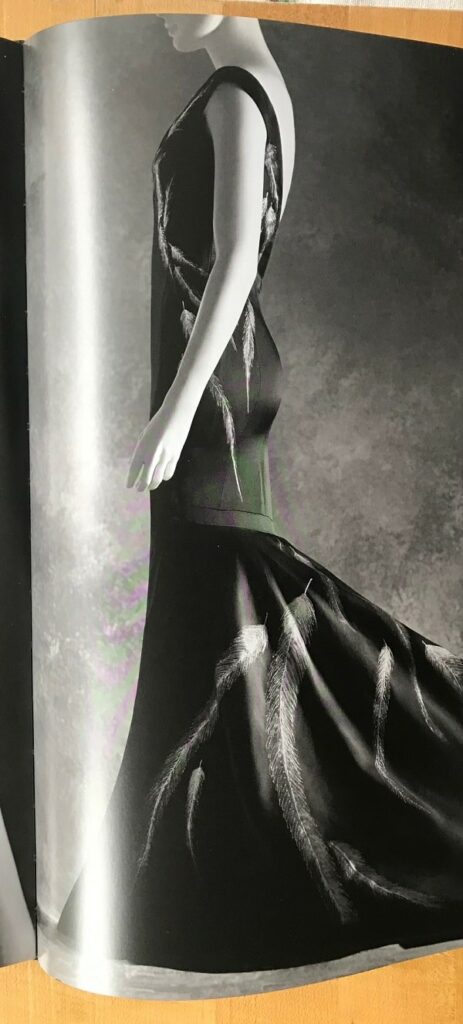 His commentary on the dress is also a reminder that the little black dress isn't just the creation of the woman who wears it, but also the one who designed it. In this case, Talley's decision to include her design in the exhibition was breathtaking for Wilmoth. He writes:
"When she learned her dress was selected to be included in the exhibition, her eyes were moonbeams of joy, and when I left the room, she asked, 'Are you really sure he likes my dress?' "
Patrick T. Reardon
4.20.21