In late 1999, Rick Kogan and I were walking north on Astor Street through the Gold Coast, and, if memory serves, Rick was telling me about long ago summers when, as a boy, he would stroll down this street and listen to the Cubs game on the radio from the succession of open windows.
I can't completely vouch for the accuracy of that recollection because it's the sort of story that can be told and has been told about many neighborhoods in the days before the ubiquity of air conditioning.
Of course, the Gold Coast isn't just any neighborhood. In the 1990s, it was the second wealthiest community in the United States, trailing only Central Park East in Manhattan. And it was by far the most affluent neighborhood in Chicago and more than twice as wealthy as the richest suburb with a similar number of residents, Highland Park.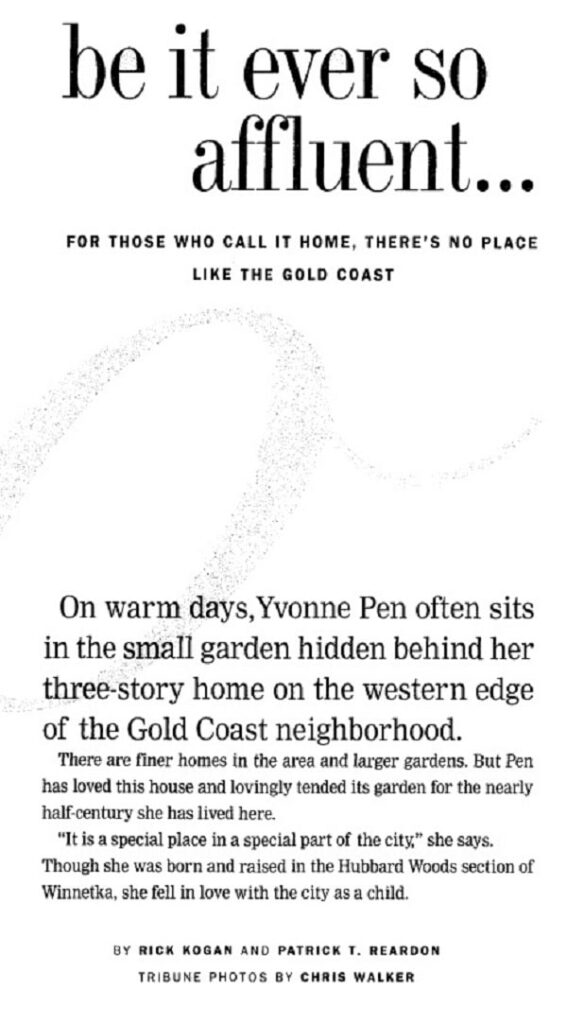 Rick and I were researching a story for the Chicago Tribune Magazine where we both worked. I realize now that the two of us — Rick's a couple years younger than I am — were midway through our writing careers at that point although who thinks about such stuff when you're in your 40s and getting paid to do what you love.
For me, our walk through the Gold Coast was a visit to a rarified place of power and luxury with scores of architecturally significant structures, including the home of the Roman Catholic Cardinal and the former Playboy Mansion.
For Rick, the 28 blocks were home.
He'd grown up and spent his life in and around the Gold Coast. He'd attended Latin School. His mother Marilew — he always referred to her by her first name — lived on one of the side streets we passed or somewhere nearby. He knew people in this building and that building and that building. He talked about the Ambassador East Hotel as other Chicagoans talk about the corner tavern. In fact, in 1983, he'd written a book about it, Sabers & Suites, one of nine he's published.
Voracious listener
It was unusual that we were working together on a story. As a reporter, Rick has always been a lone wolf, writing from his own enthusiastic, ever-curious perspective, whether as Dr. Night Life (during his tenure at the Sun-Times) or as an obit writer for the likes of Mike Royko, Studs Terkel and Roger Ebert (all of whom he counted as friends) or as feature writer highlighting some interesting and often obscure person or some aspect of Chicago history. The one major collaboration of his career was his long-running Sidewalks column for the Tribune Magazine with Chuck Osgood. Even there, Rick did the words and Chuck the photos.
I don't know which editor came up with the idea of the two of us doing the Gold Coast piece. When it was suggested, I thought: Great! We sat a few desks from each other in the magazine area on the 5th floor of Tribune Tower where all the Features staff worked. And we often kibbitzed together.
Rick and I share a deep love and knowledge of Chicago. I doubt that, during our time together in Features, anyone else in the building knew as much about the city as we did, and very few people outside the building. I got to know the warp and woof of Chicago through a lot of street reporting and book reading. Rick was the son of a man, Herman, who wrote a lot of the books I was reading, and he grew up around such people as Nelson Algren and Studs Terkel. And, like a younger Studs, Rick was constantly learning more about the city by talking to anyone and everyone. He's always been a voracious listener.
Good in the clubhouse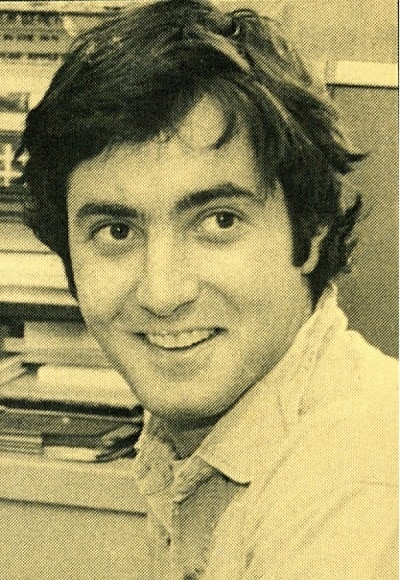 And, as they say in the Big Leagues, he's good in the clubhouse. He's a personable guy, and, when we were together in Features, Rick was ever ready to help, not just me, but anyone who might wander by his desk, looking for some background or a random fact. (Many years after I'd left the Tribune, I called Rick to track down a Royko quote for a book I was doing on the elevated Loop, and, sure enough, he pointed me in the right direction.)
Rick and I have a lot of overlap in our knowledge of Chicago, but he is much stronger in the areas of writers, entertainers, bars, restaurants and the social scene. My strengths are in social policy, demographics, politics and the broad umbrella of urban affairs. So, it made sense to have us work together on the Gold Coast story.
Nearly a quarter of a century later, the 5,000-word piece reads smoothly with no indications that one guy wrote this paragraph and the other guy another paragraph. Rick and I are strong professional writers, and it was to be expected that the story would flow.
I'm sure I wrote the paragraph that begins, "Consider this…" because that's a construction I often use. And I'm sure that the sections with the nuts and bolts about the wealth and borders and history of the neighborhood came from me.
Vibrant city
And I'm absolutely sure that Rick wrote the sections in which residents talk about their lives there. Such as 80-year-old Yvonne Pen who, as a student at the Goodman School of Drama, met and married her artist husband before settling in an 1880s three-story home where they raised a son who became a music professor and a composer-playwright-actress daughter.
And longtime resident and real estate agent Pat Study who recalled that, in the 1950s, the Gold Coast got kind of "slummy," well, at least relatively so. And a new resident Amy Koch who said, "I like the feeling of being young in a sophisticated place."
I had the sense back in 1999 and I still do that Rick didn't have to find the people he interviewed for the story. He knew them. They were part of his everyday life.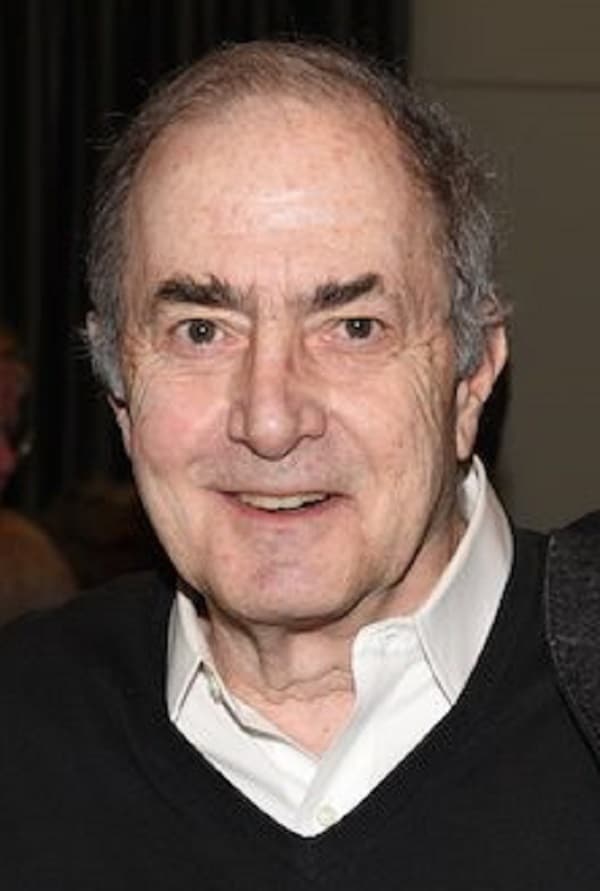 As was Abra Wilkin, the granddaughter of John D. Rockefeller, a longtime resident of the Gold Coast and, a decade before Rick, a graduate of the Latin School. She and her husband Jim lived in a penthouse apartment on the top floors of a building on East Lake Shore Drive, and, when Rick interviewed the couple there, she told him that the Gold Coast had changed since the late 1980s.
"When I first moved in, there were no young people in the building, few in the area. Now you see babies in strollers and every morning the action below: the cars, the joggers, the occasional message written large in the sand on Oak Street Beach. . . . It tells you you are in a vibrant city."
Perfectly matched
That "vibrant city" has been the focus of Rick Kogan's reporting and writing for half a century. He was a vibrant presence in the newsroom we shared, and he's been a vibrant voice revealing and celebrating Chicago for generations of Chicagoans.
In his obituary for Studs Terkel, Rick wrote that Chicago "perfectly matched — in its energy, its swagger, its charms, its heart — his own personality."
The same can be said for Rick.
…
Patrick T. Reardon
10.19.22
.
This essay was written for the program for the celebration to honor Rick Kogan as the recipient of the Fuller Award for lifetime achievement from the Chicago Literary Hall of Fame.  The event took place at the Chopin Theater on October 18.