On the first page of Frederick Busch's 1991 novel Closing Arguments, Mark Brennan writes that he is telling the reader
of the upstate lawyer, the post-traumatic combat stress, the splendid wife, their solitudes and infidelities, their children, his client with her awkward affinities, the sense of impending recognition by which he is haunted.
So, right from the start, Brennan describes himself as "haunted" and signals of an "impending recognition." What is going to be recognized? Who? How?
And there it is again, at the bottom of that first page, the word "haunted":
Haunted is the word to use, though. His story's about this wife Rochelle, her need to publicly acknowledge his war, the recognition he will suffer if she does, and how she'll suffer worse. The threat to him is real. This is a very cruel story, you know.
He tells the story of a Marine pilot in Vietnam whose plane is downed and who spends months of torture as a POW before escaping. He tells a story of post-traumatic syndrome and of a man who, day to day, seems always at the very end of his life, always on the verge of disintegrating into a thousand million atoms or exploding like a land mine.
Brain, soul and psyche
Despite the word "haunted," there are no ghosts in Closing Arguments in the sense of creepy spectral beings who intrude on the body-and-blood of the real world.
There are, however, ghosts in Mark Brennan's brain, soul and psyche — ghosts of pain and abuse and, even more, self-flagellation.
How would any veteran with PTSD react to be put on display for the unveiling of a monument in his honor? What demons in his experience, in his past, would this bring out?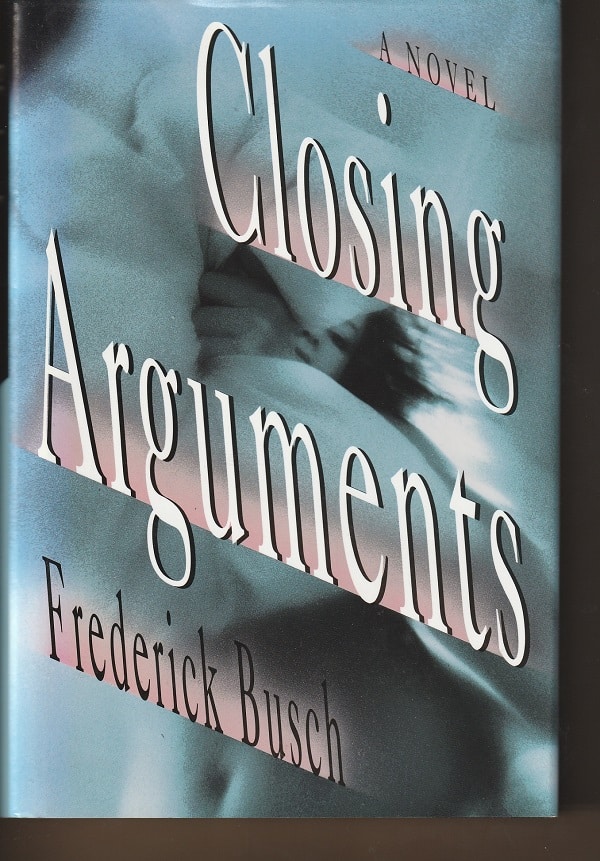 Everything that Mark tells in his story seems imbued with a terror for what might happen at such a moment.
Testament
But "haunted" isn't enough to describe Mark and his story.
If one word is haunted, another is sad. Use it for his wife and kids. And betrayed, the innocent can never be protected.

And numerous other words that in the course of this testament you will be asked to consider.
"Testament"? Is this a testament like an affidavit? Or like a last will and testament?
As Mark says a few pages later, he's "troubled." That's another word. And so is "lies."
Lies and lying
The story that Mark tells is filled with lies and lying.
He suspects everyone of lying, including his wife. He cannot see her without thinking that she is routinely sneaking around to sleep with other men and, of course, lying to him about it.
Not that he is at all chaste. He tells about trying to start an affair with an attractive prosecutor, and much of the story he tells in the pages of Closing Arguments has to do with the sado-masochistic affair he has with a client on trial for murder. He tells all this to the reader. To Rochelle, he lies.
His client lies to him about the killing, and he lies to her about how he will deal with her on the stand.
Seemingly, in the story that Mark tells, everyone around him is lying.
"Precise, poetic novels"
Closing Arguments is a dark, depressing novel, well-told. Indeed, so well-told that it's more than a bit claustrophobic. And, the 11th of Busch's 16 novels, it was a drastic change of pace.
The New York Times wrote that Busch, who died in 2006 at the age of 64, was known for
"precise, poetic novels and stories delved into the seemingly unspectacular but ultimately profound experiences of people and families grappling with existential crises….[and] as a writer's writer who seemed to impress critics more than the mass audience with his nuanced tales of ordinary-seeming people told in a manner some likened to John Cheever's or Chekhov's."
Commenting on Busch's 2000 story collection, Don't Tell Anyone, Booklist wrote:
"Busch writes about the North American family with such depth of feeling and understanding that most of his stories are sad."
Breakout book?
The quiet melancholy of most of Busch's novels, however, is nowhere to be found in Closing Arguments. Indeed, it's clear that the author, who'd never had a bestseller, was swinging for the fences with the book.
In a blurb on the novel's dustjacket, historian-novelist Richard Rhodes called it "Frederick Busch's breakout book. It's powerful and shocking and not to be missed." Novelist Tim O'Brien's blurb was: "It's a fierce, brutal, beautiful book, one of those rare works of fiction that will find its way into a reader's dreams."
Like all of Busch's other fiction, Closing Arguments is beautifully written. In this case, his high literary skill is employed in the telling of a story that has many of the elements of a bestselling pot-boiler: Vietnam, drugs, kinky sex, a murder trial, child abuse, violence, torture, infidelity, AIDS and a famous journalist.
And, on top of all that, the novel features a plot twist on its final page that will leave a reader astonished.
Nonetheless, Closing Arguments wasn't Busch's breakout book. It didn't gain him much more attention from the book-buying public than he'd already had.
And, in his New York Times obituary, it was never mentioned.
Patrick T. Reardon
1.12.23