Dick Simpson is one of those rare political scientists who has also been a politician. He knows how the sausage is made, even if there is much he doesn't like about the process. As he writes at the start of Democracy's Rebirth: The View from Chicago:
I bring to this book not only fifty years of study, but my unique perspective as a former political candidate, elected official, campaign strategist, and government advisor….I have seen government and politics from inside.
Back in the late 1960s, Simpson, a native Texan, was in his twenties and teaching political science at the University of Illinois at Chicago (UIC). But, unlike most academics, he didn't sit on the sidelines and watch. He worked as a campaign manager in Illinois for the presidential bid of Eugene McCarthy, and, in the aldermanic race in Chicago's Near North Side 44th ward, he organized the upset victory of a liberal-minded candidate over a Democratic machine politician.
In 1971, when that seat was empty, Simpson ran on his own as an independent Democrat and won — and won again four years later. Then, he retired from public office and spent the next half century teaching at UIC and writing books on local and national politics.
Democracy's Rebirth is very much rooted in his experience as a Chicago alderman and in his many books, written as a close observer of the city's political scene. Simpson went toe-to-toe with Chicago's Richard J. Daley as one of a handful of independents in the mayor's rubberstamp City Council. "Mayor Daley would chide me when I was a Chicago alderman, 'you ain't got the votes, kid,' " Simpson writes.
From that quote, you might think of Daley as a kindly uncle correcting a wayward nephew. But Chicago politics is never very gentlemanly. Simpson notes that, in the late 1960s, when he managed an independent campaign in a nearby ward, the candidate's office was firebombed. "As they say in Chicago, "politics isn't bean bag" — it isn't a game, but political warfare with no holds barred," Simpson writes.
Goo-Goos
When I was a reporter at the Chicago Tribune, there were some in the newsroom who looked down their noses at Simpson and other independents, dismissing them as Goo-Goos, i.e., Good Government advocates. Perhaps that attitude had its roots in a cynicism that developed after covering, for decades, a City Council that was not a legislative body but simply an arm of the Mayor's Office on the 5th floor of City Hall.
People like Simpson and, later, Helen Shiller in the Uptown 46th ward made jaded reporters a little nervous because they weren't willing to play the power game. Instead, they'd say hard truths about the city's corrupt, one-party rule.
Other journalists looked at Simpson with respect, such as R. Bruce Dold, the former Tribune publisher and editor. "If Chicago politics has a conscience, it is embodied in Dick Simpson," he said in a recent interview. "Going back to his City Council days, it wasn't that he and other independents could pull off legislative victories. It was that, fortunately, there was a small band of thoughtful people who thrived on standing up to power."
A half century of experience
Democracy's Rebirth, Simpson's 22nd book, is a summation of his half a century of writing and his unique careers as political candidate, elected official, campaign strategist, and government advisor.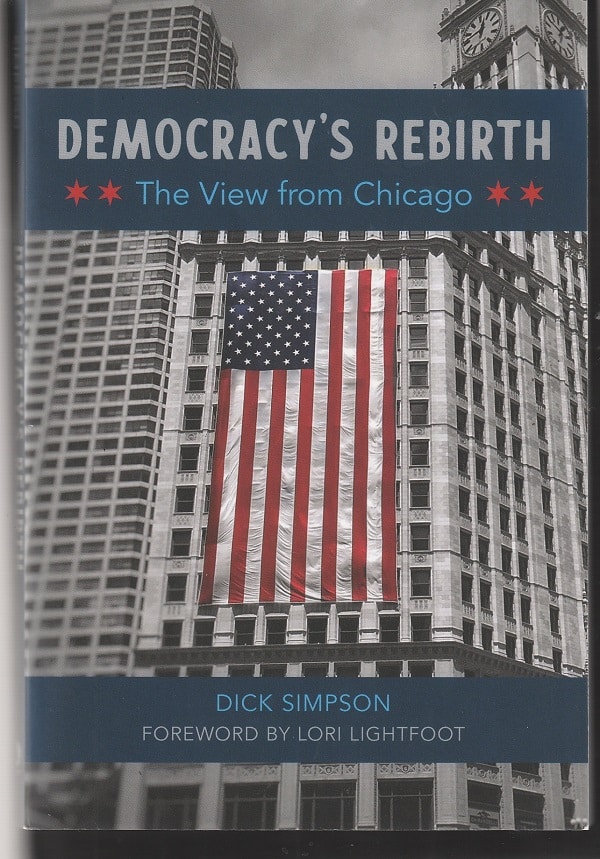 It's a kind of a workbook as well — a primer for citizen-voters and for students of government that uses Chicago as a case study and describes in great detail how government, politicians and democracy work and the many challenges now before the nation. Or, as the book's publisher, the University of Illinois Press, describes it, "a blueprint for repairing America's imperiled democracy."
And, because the book delineates myriad specific ways to address these challenges, it is somewhat akin to a binder of position papers for a newly elected public official, something Simpson helped prepare as a member of the transition team of Mayor Lori Lightfoot following her 2019 election.
"For the greater good"
Democracy's Rebirth, which Simpson characterizes as "a theoretical discourse and a practical manifesto," is about politics, justice and democracy in a very down-to-earth manner.
Simpson isn't only an expert on sausage-making. He also knows how the mechanisms of government and policy work — and how they should work — so he goes into the nitty-gritty of what has been going wrong with democracy in the United States and offers very detailed how-to instructions for bringing the nation's democratic process back to full health. But his ultimate focus is on the importance of individual Americans.
If we are to succeed, democracy requires a citizenry willing to participate and hold their government accountable. To sacrifice for the greater good.
Throughout the book, Simpson gives passing mention to the forces working against democracy — forces, he writes, that have been unleashed by former President Donald Trump and by his allies and supporters, such as those who took part in the January 5 insurrection. To counterbalance such authoritarian efforts, what's needed are voters and citizen activists committed to democratic ideals and reform.
We, the people, must shake off our apathy and rise up. We must understand, act, and act again until our democracy is reestablished on a sounder footing.
Signs of good news
Surprisingly, given Chicago's history, Simpson suggests that recent developments in the city may be signs of good news for the nation.
In his chapter on polarization, he notes that race was a key polarizing factor in Chicago for decades, such as in the moves taken in 1976 to appoint a white acting mayor after the death of Daley, and, seven years later, in the opposition to Harold Washington, the city's first Black mayor — not only in the election but also in the Council Wars that followed.
More recently, in the city, however, "the century-long battle between order and innovation, political machine and reform movements, ethnic and racial divisions has swung toward progressive reform," writes Simpson.
For one thing, he writes, "Chicagoans elected a Black, woman, lesbian mayor in 2019." For another, the Council "has begun to act more like a legislating body while providing Mayor Lightfoot a governing majority." Indeed, the Council has changed so much that, in sharp contrast to decades of lockstep regular Democrats, it is now the home of a handful of self-identified socialist alderman, although Simpson doesn't mention this development.
As someone who worked on Lightfoot's transition team, Simpson has been heartened by what she did as a reform-minded mayor, such as eliminating aldermanic privilege in routine administrative matters, a veto power for a Council member that fragmented city government.
However, Simpson's book was published last year, and, since then, Lightfoot was defeated in her bid for re-election. The city's newly elected mayor Brandon Johnson, also a progressive, is likely to foster the reform movement and build on the measures that Lightfoot implemented or put into motion. But, as Chicago history has often shown, that remains to be seen.
Patrick T. Reardon
5.25.23
This review originally appeared at Third Coast Review on 4.14.23.