Detective Cotton Hawes gets off on the wrong foot when he's transferred from the cushy, affluent 30th precinct to the rough and tumble 87th.
He knocks on a door and nearly gets Detective Steve Carella killed.
Of course, it wasn't just any door. It was the door to the apartment when a suspected killer lived.
And it wasn't just any suspected killer. It was the guy who pushed Detective Roger Havilland into a plate glass window, causing the burly, somewhat mean-spirited cop to fall in such a way that a shard of glass pierced his jugular vein and another pierced his windpipe.
"And that was the end of Roger Havilland."
"A streak of white"
Hawes joined Ed McBain's 87th Precinct series of police procedurals in the 5th installment, Killer's Choice, published in 1958.
Since then, Hawes was a mainstay of the McBain books, and, each time, there would be some version of this description from Killer's Choice:
The man in Lieutenant Byrnes' office was six feet two inches tall, and he weighed one hundred and ninety pounds.  He had blue eyes and a square jaw with a cleft chin.  His hair was red, except for a streak over his left temple where he had once been knifed and where the hair had curiously grown in white after the wound had healed.

He had a straight unbroken nose, and a good mouth with a wide lower lip.  There was something of arrogance on his face, as if he did not approve of the lieutenant, or of Carella who stood alongside the lieutenant's desk, or even in face of the lieutenant's office.
That streak of white amid his red hair is his most distinctive characteristic, and I remember, when I was first reading these books back in my 20s, how striking that image was, especially since a colleague of mine in the news business, a Vietnam veteran, had a similar white streak in his brown hair.
"Soaked with alcohol"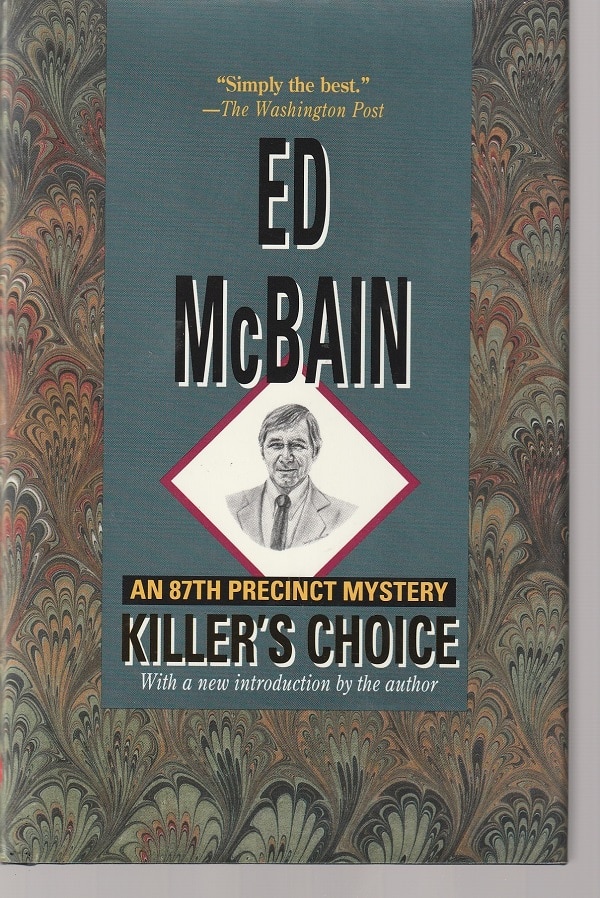 There are two killers in Killer's Choice — the one who killed Havilland and the other who shot Annie Boone and destroyed much of the stock in the liquor store where she worked.
The novel opens with Carella and other cops at the crime scene where, on the floor amid shattered glass and booze, is the young women's body:
Her hair was long, wet and straggly now because her cheek was against the bare wood of the floor, and her hair, her clothes, her body were soaked with alcohol.
McBain is always good about describing dead bodies in his novels. He gives each due respect. So does Carella.
When he retreats outside to get away from the thick odor of spilled liquor, Carella ruminates on how death steals a person's dignity.
The postures of death managed to simplify a human being to an angular mound of fleshy rubble.

And so looking at what had once been a woman — a woman who smiled prettily, and kissed her lover, and adjusted her stockings, and applied lipstick with utmost feminine care — looking at what had once been warm and alive Carella felt overwhelming sadness, a sense of tragedy which he could not quite grasp.
Sadness and tragedy
McBain's eye for what was there to see and feel sets him apart from most other practitioners of his mystery-writing craft.
His 87th Precinct series is about police investigatory techniques, but even more it's about the human beings who as detectives interact with other human beings in a world of many emotions.
Often, though, in their line of business, those emotions center on "overwhelming sadness" and "a sense of tragedy."
Patrick T. Reardon
11.16.21