Cotton Hawes, the new guy among the 87th Precinct detectives, sleeps his way through Killer's Payoff.
I don't mean he's asleep while the action takes place. He's in the middle of the action, you might say. That's because, at virtually every turn in Ed McBain's 1958 novel, Cotton is falling in love with — and going to bed with — some very pretty girl.
There's Nancy O'Hara, the mistress of blackmailer and murder victim Sy Kramer. And Alice Lossing, the girlfriend of a missing hot-headed photographer.
And there's the young waitress in her white dress and white cap at the place where Cotton stopped for lunch on his way up to do some detecting in the Adirondacks. She's named Polly and is an anthropology major at a college in the city, working a summer job.
Cotton and Polly have lunch and then some drinks and then some more drinks and do some dancing to a jukebox, and then they have dinner and go back to her cottage to listen to records and drink whiskey.
Polly was a very pretty blond girl with blue eyes, deceptively slender with a well-rounded bosom and wide hips. Polly was an anthropology major who wanted to go to Yucatan. Polly was a city girl who was bored to tears with the village and tickled to death she had met this entertaining stranger with a white streak in his hair and a name like Cotton.

She fell in love with him a little bit, too.

She lived alone in the cottage.

And so to bed.
More than a few and-so-to-beds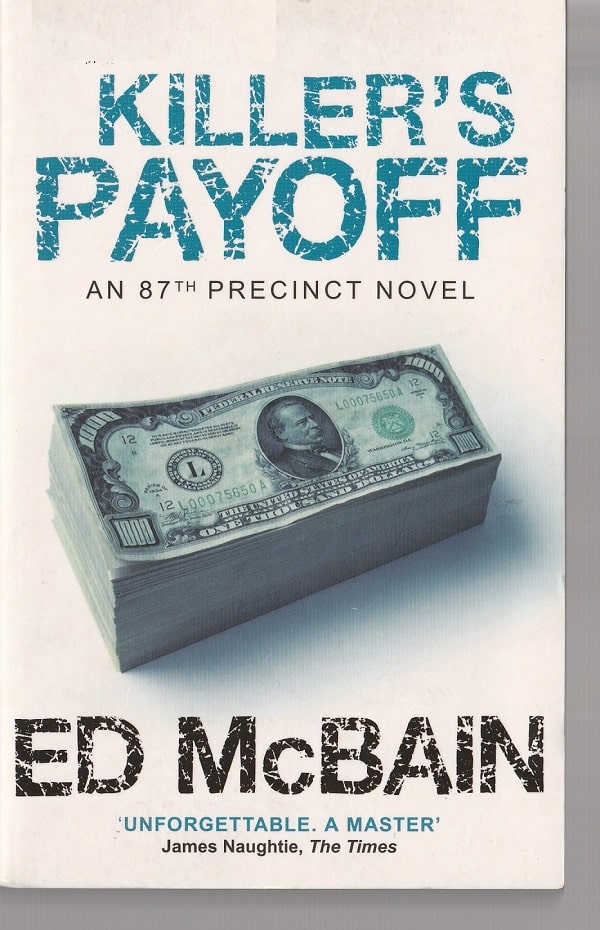 The phrase "and so to bed" is famous for being frequently used in the 17th-century diary of Samuel Pepys, one of the most important primary sources for historians of the English Restoration period. There are more than a few and-so-to-beds in Killer's Payoff.
I don't know how many readers of McBain's police procedurals featuring the 87th Precinct squad — Killer's Payoff was the sixth in the series of more than 50 novels from 1956 to 2005 — knew that McBain's use of the phrase was a reference to the Pepys diary.
McBain — who, when he was writing more serious fiction, used his legal name of Evan Hunter — liked to have fun when he was writing genre novels.
Witness how he wove into the plot of this novel Cotton's various romantic interludes. And witness his delight in this novel at dropping in a slew of other literary allusions.
"Stately, plump Buck Mulligan"
This happens when Cotton has to interview a photographer named Dean Kramer, no relation to the violently deceased Sy, about some photos.
Dean Kramer, it turns out, is a big fan of the first sentences of novels, so much a fan that he memorizes a whole lot of them and pops them into conversations, such as he does with Cotton:
He paused, frowned momentarily, and then said, "Scarlett O'Hara was not beautiful, but men seldom realized it when caught by her charm as the Tarleton twins were."

"What?" Hawes asked.

"The first line of Gone with the Wind….You'd be surprised how much authors pack into that first line. It's a very important line."

"About those pictures," Hawes said.

"Stately, plump Buck Mulligan came from the stair bearing a bowl of lather on which a mirror and a razor lay crossed," Kramer said. "You know what that is?"
"Mr. Kramer!"
It's from Ulysses by James Joyce, and it's quickly followed by the first lines of David Copperfield by Charles Dickens and From Here to Eternity by James Jones and Rebecca by Daphne du Maurier.
And, before Cotton can finish the interview and get out the door, McBain, through Dean Kramer, throws an in-joke down on the page:
"The building presented a not unpleasant architectural scheme, the banks of wide windows reflecting golden sunlight, the browned weathered brick façade, the ivy clinging to the brick and framing the windows."

"Mr. Kramer…"

"That's The Bl—."

"Mr. Kramer!"
Where's that opening line from? Some great work of literature?
Well, it was from a bestseller, at least. It's from a 1955 novel titled The Blackboard Jungle.
Written by….Evan Hunter.
Patrick T. Reardon
1.19.23