Norwood, the first novel by Charles Portis, is a wry, sweet, kindly novel that follows Norwood Pratt, ex-GI and decent enough car repairman, on a meandering, low-stress odyssey across the U.S. from Camp Pendleton, outside San Diego, to his home in Ralph, Texas, and, eventually, back on the road in a too-good-to-be-true car (it was), heading to collect a $70 debt in New York City, and then on a bus back south, on which he meets Rita Lee, the love of his life; a brilliant though bedraggled chicken; and a world-weary ex-circus midget, before ending up back in Ralph.
Nothing much happens, except, of course, that falling-in-love bit which is low on romantic lighting and high on goofy compatibility.  But plot isn't all that important in this 1966 novel that is a cousin to the sort of book that, at that time, Elmore Leonard was just starting to write although, unlike Leonard, without any sort of genre hook.
You could call the novel "loopy," and that would be true enough, although not in any pejorative sense.  It's more "looping," like the ambling walk of a good old boy at peace with himself and the world.
"Like calf brains"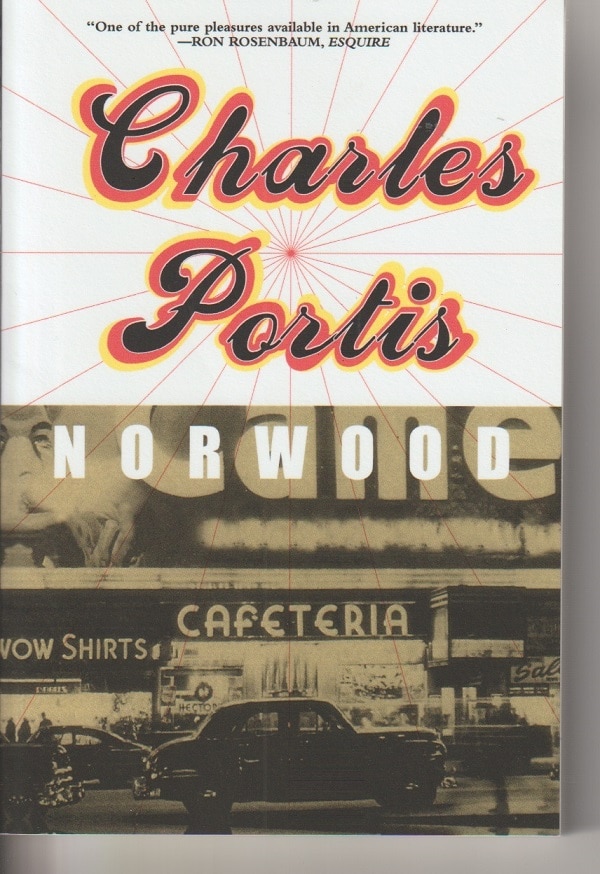 You might call it — well, here, these things will give you a sense of what kind of a novel Portis wrote:
Norwood's father's affection for a federal roadway — "Before his death they had moved a lot, back and forth along U.S. Highway 82 in the oil fields and cotton patches between Stamps, Arkansas, and Hooks, Texas.  There was something Mr. Pratt dearly loved about that section of interstate concrete.  They clung to its banks like river rats."
One house they lived in that had a tin-roof and, as a neighbor, a gas field with a spectacular flare forever burning — "Big copper-green beetles the size of mice came from all over the Southland to see it and die in it.  At night their little toasted corpses pankled down on the tin roof."
A discussion of how squirrel brains taste — "About like calf brains.  They're not bad if you don't think about it.  The bad part is cracking them little skulls open."
The explanation from a hitchhiker who wanted to join Norwood in getting a free ride from a bread truck driver — "I'm going on in to Indianapolis.  My wife is in the hospital there.  She doesn't have any sweat glands."
The contents of a hobo's knapsack — "There were rolled-up clothes and a cast-iron skillet and pie pans and a can of Granger and cotton blankets and copies of True Police Cases and a mashed store cake and crackers and cans of chili and lima beans and an insulated plastic cup and a bottle of 666 Tonic and a clock and an old five-shot top-breaking .32 revolver with a heavy fluted barrel and taped-on grips."
The travel writer that Norwood met in New York — "I'm a freelance travel writer.  Just from handouts though, I don't travel anywhere, yet."
A older woman in Tennessee detailing her family history — "She told about the one [relative] who ran up an eleven-hundred-dollar candy bill in Memphis and forced the family to sell as slave to pay it, and about the one who drained the swamps and how he agitated unsuccessfully for a public statue of himself in the square, like the one of Popeye in the Texas spinach capital."
The bus ride — "That night a suicidal owl flew into the windshield but didn't break it and later they saw a house or a barn burning out in an open field.  No one seemed to be around it trying to put it out."
Not what you'd expect
These are not incidents and observations you'd expect to find in a Tolstoy novel or one of Emily Dickinson's poems.
Or, for that matter, in any of the bestselling books of 1966, such as The Chosen by Chaim Potok or Ariel by Sylvia Plath or Tai-Pan by James Clavell or The Crying of Lot 49 by Thomas Pynchon or Valley of the Dolls by Jacqueline Susann or The Source by James Michener.
Portis followed Norwood up two years later with True Grit, a novel that was similarly built around the voice of its central character and a work so successful that it was made into two well-received film versions in 1969 and 2010.
He wrote only three other novels, publishing the last Gringos in 1991 at the age of 58.  He died in February of this year.
That's too bad.  The world can always use more novels about the taste of squirrel brains.
Patrick T. Reardon
8.1.20