At the start, Harry Angstrom, nicknamed Rabbit, is running away. Later, he is running to — to the hospital. At the end, he is running willy-nilly, without direction, into the unknown.
His hands lift of their own and he feels the wind on his ears even before, his heels hitting heavily on the pavement at first but with an effortless gathering out of a kind of sweet panic growing lighter and quicker and quieter, he runs.  Ah: runs.  Runs.
Rabbit was a high school athlete, a star basketball player, known for scoring and never getting called for a foul. In fact, at the very, very beginning of John Updike's 1960 novel Rabbit, Run, the 26-year-old, 6' 3" Harry is playing pickup basketball with some kids, young enough to know nothing of his fame a decade earlier.
When he finishes his game, he heads home to his apartment in Mount Judge, a suburb of the much larger 100,000-resident city of Brewer. There, he finds his wife Janice sitting in an armchair with an Old-fashioned, watching television turned down low. On the TV is the Mickey Mouse Club.
She is a small woman whose skin tends toward olive and looks tight, as if something swelling inside is straining against her littleness.  Just yesterday, it seems to him, she stopped being pretty.
She is six-months pregnant and irritable. The couple's two-and-a-half-year-old son Nelson is with Rabbit's parents. Their car is at the home of her parents. As he leaves to get Nelson and the car, an irritated Harry is oppressed by the chaos of the apartment:
It seems to him he's the only person around here who cares about neatness. The clutter behind him in the room — the Old-fashioned glass, with its corrupt dregs, the chock-full ashtray balanced on the easy-chair arm, the rumpled rug, the floppy stacks of slippery newspapers, the kid's toys here and there broken and stuck and jammed, a leg off a doll and a piece of bent cardboard that went with some breakfast-box cutout, the rolls of fuzz under the radiators, the continual crisscrossing mess — clings to his back like a tightening net.
Starts driving south
Harry gets the car, but not Nelson. Instead, he starts driving south, headed vaguely to the beaches of Florida, but only getting as far as West Virginia deep in the night before turning back.
He doesn't go home, though. Instead, he finds a bed in Brewer at the apartment of his old basketball coach Marty Tothero, and then a bed with Ruth Leonard, a young woman he finds attractively overweight and more comfortable with sex than his wife.
That is essentially the first section of Updike's novel, 116 pages.
The second section of 111 pages opens two months later and covers Rabbit's life with Ruth, a life abruptly fractured when Janice goes into labor, Rabbit runs to the hospital in Brewer and moves back in with his family, now with a new daughter Rebecca June.
The third section, much shorter, just 37 pages, has to do with tragedy. And it ends with Rabbit wandering away from a cemetery and then, in "an effortless gathering out of a kind of sweet panic," breaking into a run.
What next?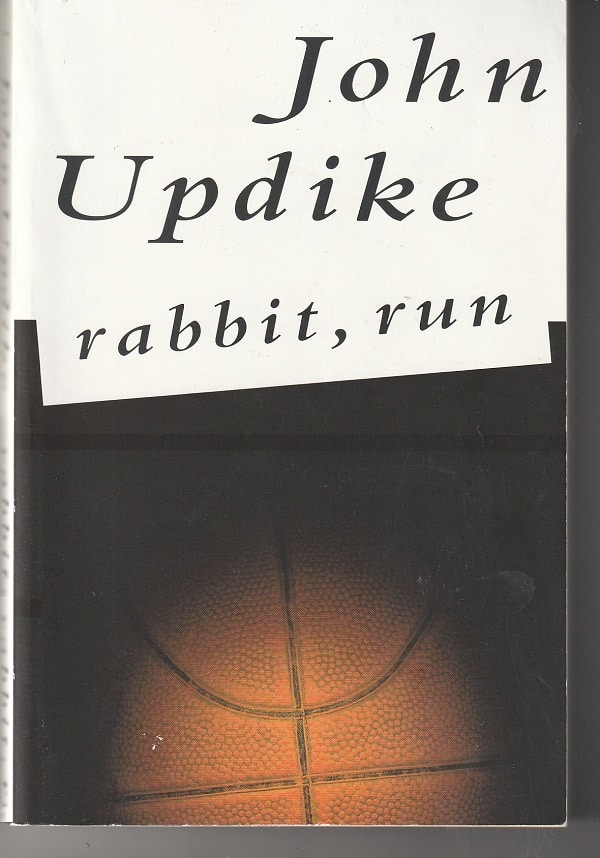 I am decades late to Rabbit, Run which was published a few years before I got to college and has been read and enthusiastically promoted by seemingly every English major I've ever known.
Despite my having not read the novel, there was no way for a book review reader like me to have missed that, since 1960, Updike published four more Rabbit books which, Wikipedia tells me, are Rabbit Redux (1971), Rabbit Is Rich (1981), Rabbit at Rest (1990) and Rabbit Remembered, a novella in the collection Licks of Love (2001).
As I was working my way through the first section of Rabbit, Run, I was puzzled that anyone would want to read so much about a guy who seemed aimless, selfish and irresponsible.
By the time I finished the book, I was far beyond such puzzlement. I wanted to know what happened next to Rabbit and immediately ordered a copy of Rabbit Redux.
Why?
"A solemn guilty peace"
First of all, even before my change of heart about Rabbit, I found Updike's book beautifully, brilliantly written, particularly its frequently poetic prose.
Consider that long sentence about the messiness of the Angstrom apartment — the "corrupt dregs" of Janice's drink, the "floppy stacks of slippery newspapers," and "the continual crisscrossing mess."
Or consider this sentence about basketball playing that comes into Harry's mind during his drive to West Virginia:
There was you and sometimes the ball and then the hole, the high perfect hole with its pretty skirt of net.
When Rabbit sneaks back into the family apartment for clothes, he finds pork chops in congealed grease in a pan on the stove.
He draws scalding water into the sink and puts the pan in to soak.  The breath of steam is a whisper of a tomb.
Later, back in the apartment with Janice, Nelson and Rebecca June:
They sip soup by the flickering light of Rebecca's urgent cries; her feeble voice is a thin filament burning with erratic injections of power.  But as, amid the stacked dishes on the sink, under the worn and humid furniture, and in the coffin-life hollow of the plaited crib, the shadows begin to strengthen, the grip of the one with which Becky has been struggling all afternoon relaxes, and suddenly she is quiet, leaving behind a solemn guilty peace.
Foreshadowing
Such language is a joy to read. Updike's images are so fresh and apt. What parent doesn't know the feeling of "a solemn guilty peace" after a baby stops crying.
But there's more than that going on. Rabbit's image of the basketball net "with its pretty skirt of net" isn't just about how the net under the rim looks, it also has to do with his confused relation to sex. In basketball, the rim is a "high perfect hole," but physical intimacy with another is never so perfect nor so simple.
Similarly, the steam seeming "a whisper of a tomb" is not just a fitting description of the sound and sight, but also a foreshadowing of the tragedy to come.
"That's it!"
As for Harry Angstrom, I came to find him compelling for the same reasons I initially found him distasteful.
Rabbit is an existential Everyman who is searching for a life that's equivalent to the feel of taking a shot and seeing the basketball go in through the "high perfect hole."
At the end of the book's first section, he is golfing with his one friend, a young Episcopal minister named Jack Eccles. He is explaining to Eccles that he left Janice because "there was this thing that wasn't there."
What thing? Eccles wants to know. Is it hard or soft? Is it blue or red? Does it have polka dots? Harry, the minister says, you're just "monstrously selfish…you worship nothing except your own worst instincts."
Rabbit is as confused as Eccles is, but, then, he tees off and send a drive down the fairway, strong and true:
"That's it!" he cries and, turning to Eccles with a grin of aggrandizement, repeats, "That's it."
"Nowhere"
Many of Rabbit's discussions with Eccles have to do with God and faith, but, even more, with "it." With the "thing that wasn't there" with Janice.
Harry has always liked watching people go to church in their Sunday best. As for the ones who aren't going to church:
He hates all the people on the street in dirty everyday clothes, advertising their belief that the world arches over a pit, that death is final, that the wandering thread of his feelings lead to nowhere."
He doesn't like to think that the yearning inside him for "it" will lead to nowhere. He wants to find "it" as a place to be — a way to live — rather than as the momentary perfection of a basket or a golf drive or an orgasm.
"Pay your price"
There is in Harry an openness to life that makes him seem aimless, selfish and irresponsible. He knows that this openness has repercussions. His mother, at one point, asks what will happen to Ruth Leonard now that Rabbit has come back to Janice.
"Her? Oh, she can take care of herself.  She didn't expect anything."  But as he says this he tastes the lie in it.  Nobody expects nothing.
Earlier, Ruth is angry that Harry believes that there is an "it," leaving him full of "something nobody can get at." And then this happens:
"I'll tell you," he says.  "When I ran from Janice I made an interesting discovery."  The tears bubble over her lids and the salty taste of the pool-water is sealed into her mouth.  "If you have the guts to be yourself," he says, "other people'll pay your price."
Well, yes, but that's not all.
As events show, Harry, too, has to pay his own price.
The clarity of "it"
When Rabbit runs, it seems that he is fleeing. But that's not exactly true. Neither is he running toward something.
He is, throughout Rabbit, Run, grasping for, searching for, yearning for a "high perfect hole" of meaning.
In his drive to West Virginia, he found that he could not drive to what he wanted. In his relationships with Janice and Ruth, in his sex with them, he discovered he could not enter into what he wanted. In his presence in a life of work and family and community and conversation, he learned that he could not see where "it" could be found, where "it" could be.
He is in a life in which everything seems cramped. The clarity of "it" only comes in the moment of a golf drive, a tantalizing hint of what should be able to be found.
But it can't be found. So, like the instinctual young child who is filled with feelings and desires for which there is no language, he leaves behind the mental and the emotional and opts for the physical.
He runs.
Patrick T. Reardon
8.16.22