I guess I shouldn't be surprised that Science Fiction — the generic, er, science fiction novel, written by John Silbersack and published in late 1981 by Jove Books — is readable and reasonably entertaining.
That's what was promised for No-Frills Books — for this space opera as well as for the three others published at the same time: Western, Mystery and Romance. The inside copy read:
"Welcome to the satisfactory world of No-Frills Books. This sensible No-Frills Book is complete with everything Science Fiction lovers look for. The adequate gift for every occasion."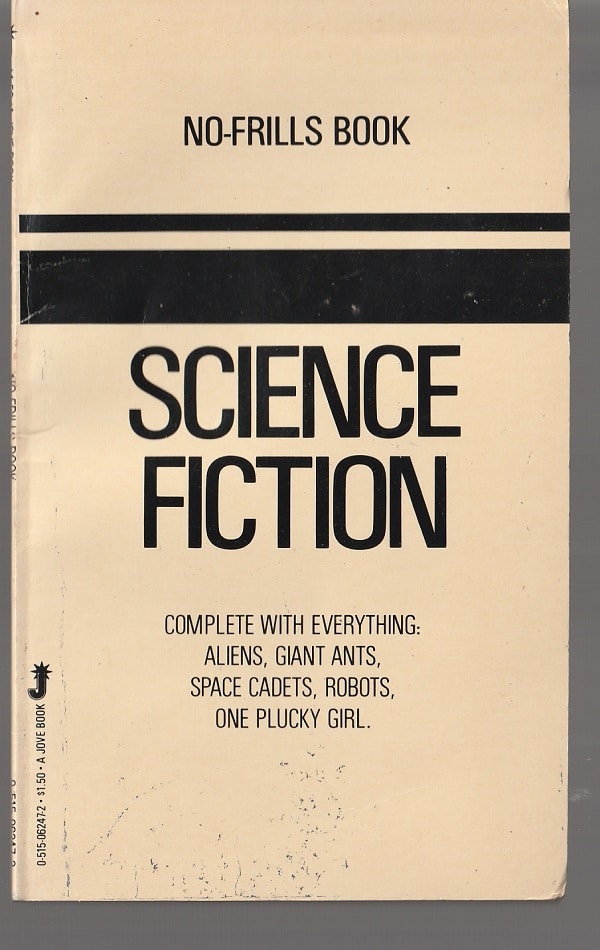 Well, yes, Science Fiction was satisfactory. And sensible. And adequate.
Satisfactory, sensible and adequate
The effort was a fun gimmick by the editors at Berkley Books who set up Jove as the front-guy publisher, and it got a ton of press at the time.
For one thing, no reviewer or interviewer was going to need a lot of time to read these tiny books, with about a quarter of the number of pages usually found in a genre novel. Science Fiction has just 58.
For another, this was the initial era of generic products, most of which, at the start, were offered in starkly utilitarian black and white packaging, without even a brand name.
That's the style that No-Frills used for its four books. Indeed, there was no author listed or anything else on the cover except this promise:
"Complete with everything: aliens, giant ants, space cadets, robots, one plucky girl."
Stars in her eyes
Actually, it's a robot who's plucky. And, for a machine, he/it is more than a bit emotionally unstable.  The robot calls himself/itself Poppy.
The girl Dana, a cop, starts out rough and tough but quickly eases back to be just an early 1980's stereotypical girl with stars in her eyes for her guy Alex.
Alex, a space cadet, is only 20 or so, but, as the guy, he takes up leadership of the human group during the adventure, and the only other guy, the middle-aged Professor Josiah Carberry, is too absent-minded to be a threat to his authority.
Parodies?
After reading the book, I looked around and discovered that John Silbersack, an editor at Berkley, was the author, having cranked out the manuscript in two weeks.
This information, as well as the names of the authors of the other three books and a history of the gimmick, is available at a Sternberg Press webpage promoting Signature Strengths, a 2016 publication that includes the text of all four novels. Also on that web page is a December 13, 1981 review of the four books by someone called Anonymous, although it's not revealed where this review appeared.
This reviewer calls the four books parodies. But I can't go along with that, at least for Science Fiction.
I found that surprisingly little nod-nod, wink-wink going on in Science Fiction.
Maybe the romance between Alex and Dana was a bit goofier than usual, but not by much. And there's the time that the humans find themselves on the world inhabited by robots.
Then it had been Dana's turn to make the mistakes.

No sooner had she seen one of the ridiculous robot things that evidently ruled this planet than she'd walked up to it and said, in effect, "Take me to your leader." Alex liked the girl, but cops sure have a thing about authority, he reflected.
Gets the job done
Perhaps it says something about me that I found the pace of the plot and its movement from one strange setting to another to be reminiscent of a lot of genre science fiction.
Yeah, there were a lot of new worlds crammed into 58 pages — earth, Pluto, the planet of the robots, the Library Planet, and the planet Croatan (a reference to the lost colony of Roanoke in North American colonial times) — before Alex, Dana and the humans they save are off through space to find a new home.
Okay, maybe that was a lot of plot developments, and, okay, maybe that lovey-dovey stuff between Alex and Dana is a bit much:
Alex murmured, "I love you, Dana; I think I have from the start." She whispered back, "Me too." Leaning forward, Alex offered her a kiss. Then they scrambled for their seats at the control board.
Pretty hokey, yes, but, gee, no one ever said science fiction is expected to be great literature.
Like generic bleach, generic Science Fiction gets the job done.
Patrick T. Reardon
4.5.22