I ordered Ed Hulse's The Art of Pulp Fiction: An Illustrated History of Vintage Paperbacks and started reading it soon after it arrived.
The text is a lively discussion of how pulp paperbacks came to be and how they evolved up to the 1970s. Hulse wrote the 12 chapters, and sidebars were provided by Gary Lovisi, Will Murray and David Saunders. The introduction was written by noted paperback expert Richard A. Lupoff shortly before his death in 2020.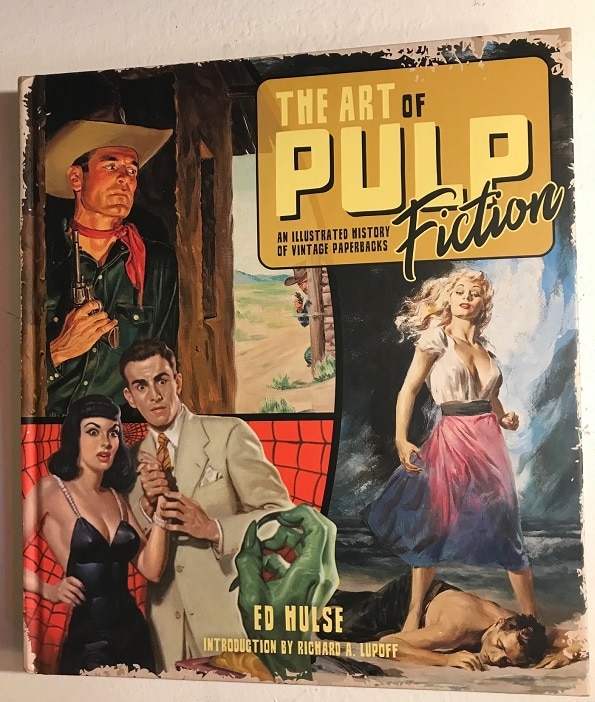 I say all this because I want to give them all credit, even though I realized, once I started reading this history, that I wasn't interested in the nuts-and-bolts facts of the pulp paperback industry.
Instead, I reveled in the beautifully reproduced covers of more than 500 books, most of them novels, many of which were somewhat steamy for the eras in which they were produced — such as "I, the Jury" by Mickey Spillane and "The Girl Gangs" by Carson Bingham and "Pirate Wench" by Frank Shay.
Even a cozy mystery
But books that weren't all that steamy would get the same treatment of a scantily (or unclad) young woman on the cover, often in some distress.
Even Sherlock Holmes!
One cover that's on display in Hulse's book is for The Hound of the Baskervilles, and it turns Arthur Conan Doyle's fairly cozy little mystery into a bosom-heaving melodrama, complete with a tied-up woman wearing a low, low neck gown and a black lace choker.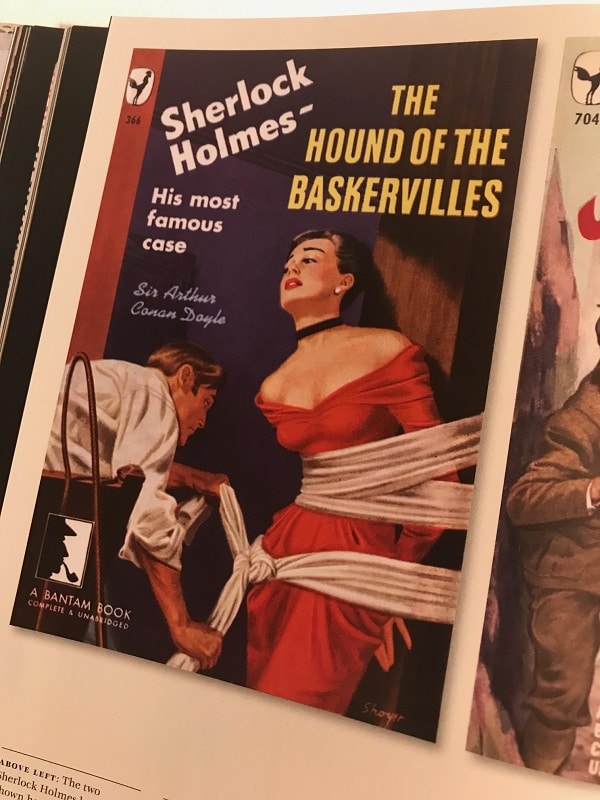 On the facing page, the cover for Agatha Christie's — let's face it, frumpy — Murder in Three Acts is given similar treatment inasmuch as the woman in there also has a very low neck dress.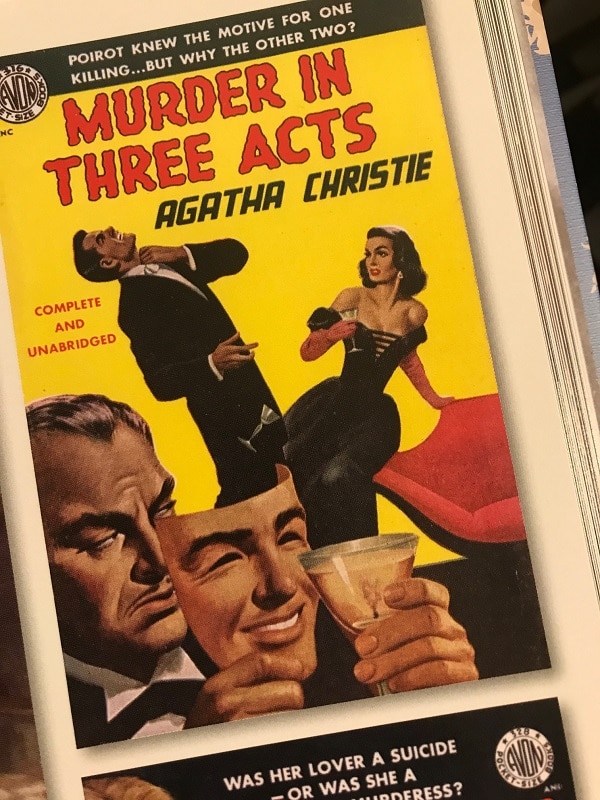 Of course, low necklines often appeared on pulp covers, even on science fiction books — or maybe especially since they tended to be more brainy than sexy, such as John Wyndham's Revolt of the Triffids and Frank Scully's Behind the Flying Saucers.
Those two books appear on the same page in Hulse's book, along with the cover of Max Ehrlich's The Big Eye. The woman on that cover is fully clothed, but her green sweater makes it clear that she could wear a low-neck gown with aplomb.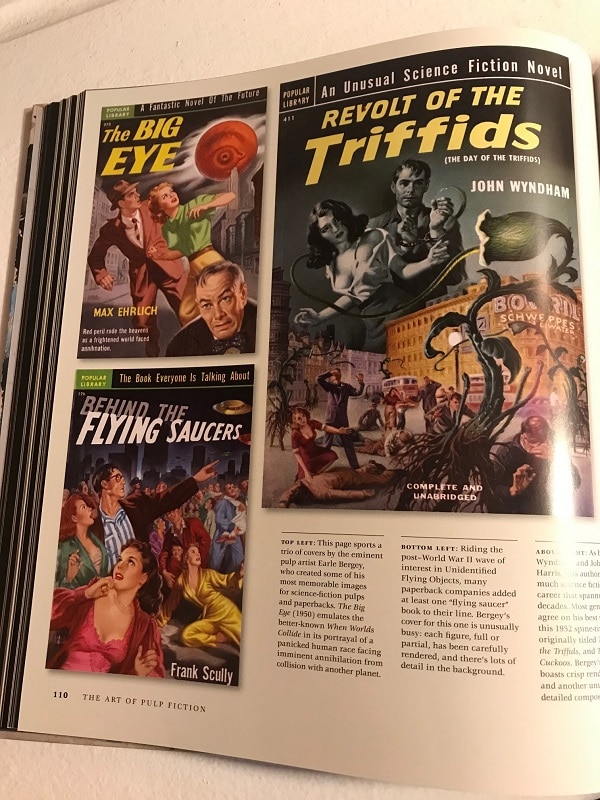 Drug store book racks
It used to be, when I was a teenager, you could walk into any drug store and find a delightfully packed rack of books with such covers.
You knew — you knew — that the book itself was never going to live up to the cover image in terms of salaciousness. That goes for even the books about the steamiest subjects. Writers could never get away with putting into words what artists were able to suggest or, more often, exhibit on the cover.
It was a kind of bait and switch, but, speaking for myself, I always found myself drawn to those sexy covers. For one thing, there were so many of them.
For another, I think the publishers had figured out that hope springs eternal in a young man's heart.
What did Tolkien think?
So even the Christian writer C.S. Lewis had this happen to one of his parable novels, Perelandra, in which God and the Devil are important characters.
The cover in The Art of Pulp Fiction shows the King and Queen of the planet, a stand-in for the Garden of Eden, as towering naked giants but with a strategic band of clouds covering their genitals and the Queen's long white hair covering her breasts.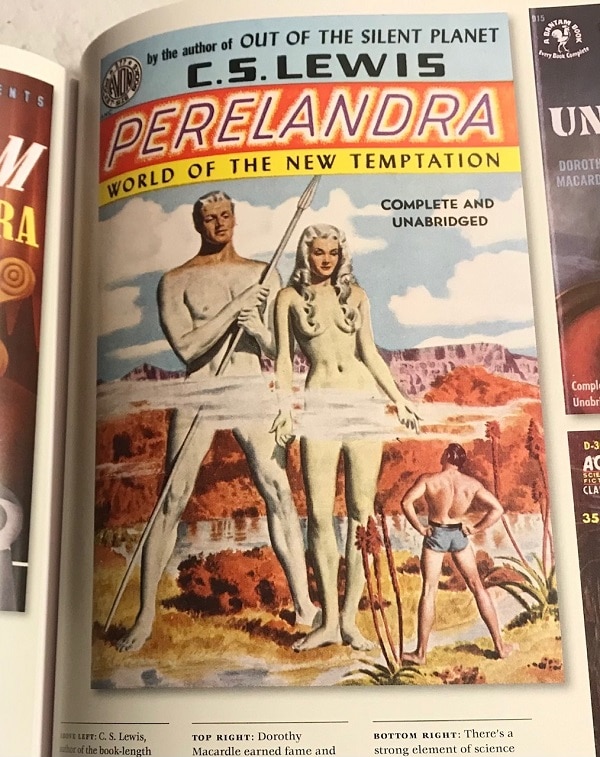 I'd love to know that Lewis's literary friends in the Inklings — including J. R. R. Tolkien and Charles Williams — had to say to him about this cover.
Patrick T. Reardon
11.11.21