Joshua Cohen's novel The Netanyahus: An Account of a Minor and Ultimately Even Negligible Episode in the History of a Very Famous Family won the 2022 Pulitzer Prize for Fiction with the judges hailing it as "a mordant, linguistically deft historical novel about the ambiguities of the Jewish-American experience, presenting ideas and disputes as volatile as its tightly-wound plot."
I disagree. But what do I know?
Colm Tóibín, the Irish novelist and essayist, wrote, "The Netanyahus is constructed with a brilliant comic grace that moves from the sly to the exuberant. Some scenes are funny beyond belief. But even when moments in the book are sharp or melancholy, they keep an undertone of witty and ironic observation. The vision in this book is deeply original, making clear what a superb writer Joshua Cohen is."
The New York City-born novelist Cynthia Ozick described the book as "a domestic sitcom farce, a ferocious academic sendup. And also, in contrast to an entire generation of fastidious timidities (Doctorow, Mailer, et al.), a rousing lecture on Jewish history leading to Zionism….The drive to quarrel with a character is only one of the delights of Cohen's shrewd, exuberant, exhilarating and merry novel."
Here's what I think
The Netanyahus is an exercise in ridicule, aimed at Benjamin Netanyahu, the politically and religiously conservative Israeli politician, the sort of public figure that the Left enjoys hating. Think of him, in a way, as a stand-in for Mitch McConnell, Marjorie Taylor Greene, Rudy Giuliani and Donald Trump.
The first half of the book — which tepidly reheats a great many observations about Jewish-Americans and academics and Jewish-American academics (better presented by earlier better books by better writers) without adding anything new or tasty — is a lead-up to the arrival of Benzion Netanyahu and his family, including son Benjamin, at an upstate New York college.
In a long note at the end of the book, Cohen tells the reader that his novel is built around a story that his friend Harold Bloom — he emphasizes their supposed friendship — told him shortly before his death.
A visit and lecture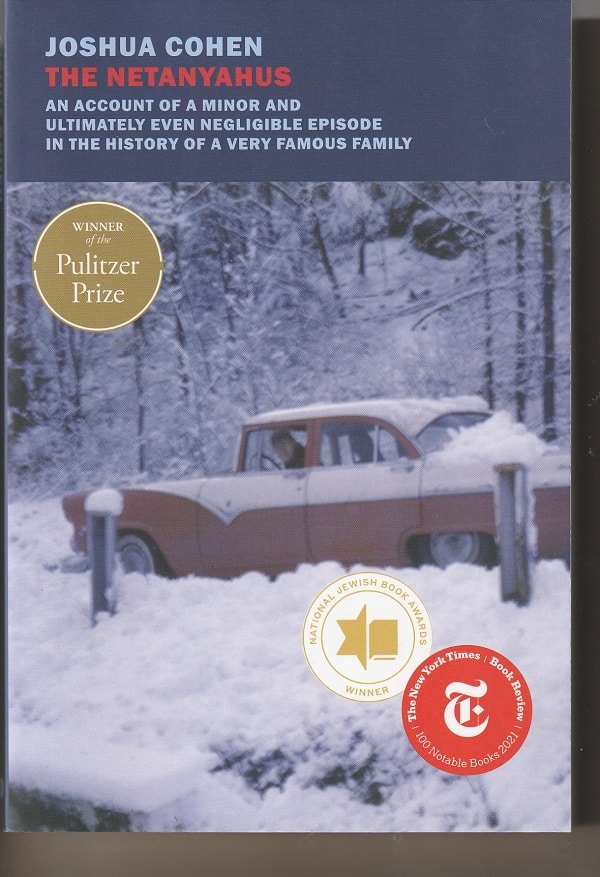 Apparently, at some university that Cohen doesn't name, Bloom was asked to coordinate a visit and lecture by Benzion Netanyhu, a fairly obscure Israeli scholar, who, writes Cohen, had been invited for a job interview and showed up "with his wife and three children in tow and proceeded to make a mess."
Many reviewers and others have jumped to the conclusion that the unnamed college was Cornell where Netanyahu taught in the 1970s and where Bloom graduated in 1951. (It's called Corbin College in the novel, and the year is 1960.)
But, as Daniel A. Segal writes in the Los Angeles Review of Books, Cohen never says it was Cornell, and there are problems with trying to fit the real-world chronology in with the events in the novel. So the question of where and when the "real" meeting of Bloom and the elder Netanyahu and all the other Netanyahus took place is up in the air.
Of course, as Segal notes, maybe Cohen's seemingly factual note is, in fact, fictionalized since, after all, The Netanyahus is a novel and Cohen is known for his metafiction.
Basis in fact?
In that note at the end of the book, Cohen is saying that he wrote his novel based on an historical occurrence, this visit by the Netanyahu family to some college. But he doesn't include Harold Bloom in the novel. Instead, he substitutes a much different, milder, weaker academic named Ruben Blum who functions as the Bloom character without having to be Bloom.
So, he's already taking liberties with the ostensible facts. But, of course, any novelist writing about an event in history is supposed to take some liberties.
In his note, Cohen hints that Harold Bloom gave him many details about the "mess" that the Netanyahus made, but he doesn't actually say that. Neither does he give a sense of what, in the ostensible real world, the "mess" was.
So, there's no way to guess how much, if anything, the story Cohen tells about the Netanyahus has any basis in fact.
"Smelled him"
In the novel, Benzion Netanyahu arrives at Corbin College with his overbearingly overbearing wife Tzila and their three children: Jonathan, also called Yoni, 13; Benjamin, also called Bibi, 10; and Iddo, 7.
Within a couple pages of their arrival:
Tzila hoisted Iddo and smelled him and then laid him atop the tray-table and, without laying a towel, proceeded to pull down his pants and peel off his diaper.
A seven-year-old in diapers! What a howl! That sets the tone for everything that Cohen will write about the family for the rest of the book.
"Feral"
Within moments of their arrival, Blum's wife Edith is complaining to him that they are "so horrible, so pushy." Blum himself refers to them as the Yahus.
Later, when Tzila insists that the Blum's high school senior daughter Judy babysit the three boys, Edith and Ruben have this conversation:
"…..and suddenly to save herself she's agreeing to spend her evening taking care of the three wild nutty Yahus."

"Maybe it'll be good for her, the responsibility."

"Except she calls them the Three Stooges. They were crawling all over her, feral. Groucho, Chico, and what's his name?"
"Feral" is exactly how Cohen portrays Jonathan, Benjamin and Iddo. And the parents, too.
"Footed pjs"
And, later, Blum discovers Bibi, "his fat face lit in the lucent light" coming through an ajar door, masturbating on the rug as he watches his older brother have sex — "roly-poly in his footed pjs, grinding himself into the replacement carpet, as Yoni performed for him beyond the door crack."
What a scream! Bibi Netanyahu in footed pjs, beating off to his brother — a future Israeli hero soldier — getting laid.
I don't find "a brilliant comic grace" in such writing and such a story. Or a "shrewd, exuberant, exhilarating and merry novel," for that matter.
It's ridicule, plain and simple. And for what purpose?
The purpose, it seems to me, is to make any readers from the Left feel warm and cuddly in their unNetanyahuness (or, by extension, their unMarjorieTaylorGreeneness, their unDonaldTrumpness).
But what do I know?
Patrick T. Reardon
1.30.23