Madam Frout, headmistress of the Frout Academy and pioneer of the Frout Method of Learning Through Fun, is pretty dopey in an over-educated way. As Terry Pratchett explains in his 2001 Discworld novel Thief of Time:
Madam Frout wasn't very good at discipline, which was possibly why she'd invented the Method, which didn't require any.  She generally relied on talking to people in a jolly tone of voice until they gave in out of sheer embarrassment on her behalf.
However, one of her employees, Miss Susan Sto Helit, isn't the sort of person to give in or feel embarrassed about anything.
She is, after all, the granddaughter of Death. Her mother was a young girl adopted by Death for reasons he was never sure of, and her father, a former apprentice of the Old Man. Both died in a tragic accident, so Susan is Death's sole surviving relative.
Of course, she's not a blood relative since the skeleton that is Death has no blood, and she's fully human. But she also has some extra powers that she uses sparingly around adults such as Madam Frout, but not with her children who are still of an age to accept field trips to the far reaches of the Discworld as routine if that's how the teacher treats them.
Madam Frout isn't sure how to handle Miss Susan who demands to be addressed in this manner while at the school despite Madam Frout's emphasis on teachers being called by their first names, and who dresses all in black, and whose blond-white hair has a single black streak and is worn in a bun. Madam Frout is creeped out by the black clothing and doesn't like that bun since "it suggested an Archaic Image of Teaching" which she says with "the assurance of someone who could pronounce a capital letter."
But she didn't dare disapprove of the way Miss Susan moved, because Miss Susan moved like a tiger.
Not only that.
The girl had this terrible ability to give you Her Full Attention.  You had to be a better person than Madam Frout to survive the intensity of that attention.  It inspected your soul, putting little red circles around the bits it didn't like.
All-star cast
Susan is a bright presence in Thief of Time as are an all-star cast of characters from Pratchett's 25 earlier Discworld books:
Death, of course. (He's the main character in at least five Discworld books and makes an appearance in all but one.)
Death of Rats, a sidekick of the Grim Reaper, a tiny skeleton who wears a robe and speaks volumes by saying, "Squeak!" (He's a minor character in four novels and makes an appearance in four others.)
Nanny Ogg, one of the two major witches of the mountainous Lancre who, unlike her colleague Granny Weatherwax, is ribald and many times married and a midwife of great renown. (She and Granny are the central people in eight Discworld books.)
The History Monks who work behind the scenes to keep Discworld and life as its residents know it going. (Important people in this book and two others in the series.)
The hyper-logical un-embodied Auditors of Reality who do everything they can to rationalize things because messy humans are very un-rational. Hence the need for the History Monks. (Important in the same books as the History Monks.)
And, as if all those Discworld heroes weren't enough, other characters include:
Myria LeJean, an Auditor who takes on humanity in order to get a perfect clock built that will stop time in its tracks and, thus, rationalize those messy humans into immobility.
Jeremy Clockson, a brilliant but socially limited master clockmaker who takes on the job to build the perfect clock.
Lu-Tze, also known as the Sweeper, a droll and powerful member of the History Monks.
Lobsang Ludd, an apprentice of Lu-Tze who has a preternatural way with time.
Ronnie Soak, a guy who delivers milk but who once was somewhat more famous.
A lot of personality
That's a lot of characters for Thief of Time, and they all provide a lot of personality for the story.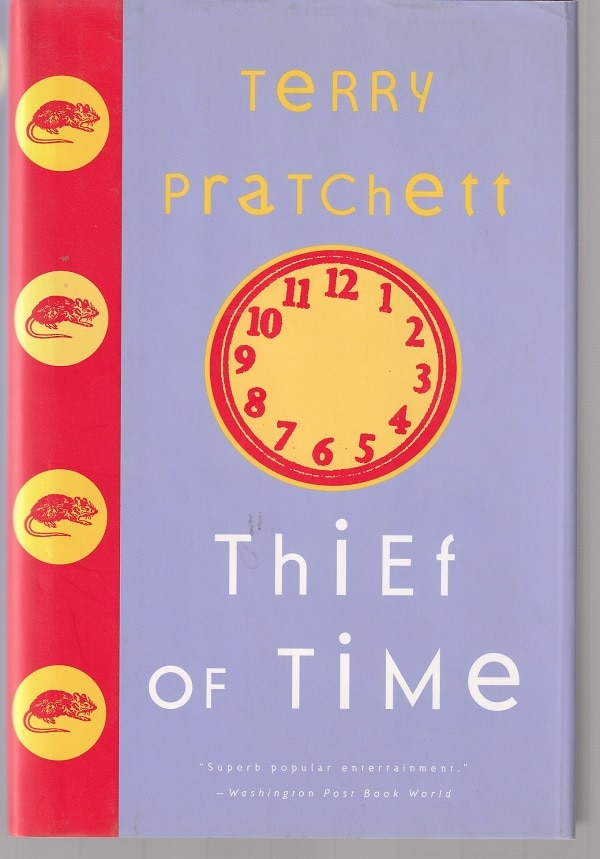 Among my favorites is how Myria LeJean goes pretty much insane as she tries to live within a body that has its own illogical demands. And how the Auditors who follow Myria into human bodies have no defense against the taste of chocolate.
And how Susan gets extra-interested when she learns that Time has an offspring who, like her, is pretty much human but also with special powers. And how the Igor who works for Jeremy is weirded out by the young man's crazy sanity. And how the Death of Rats appears in Miss Susan's classroom and is summarily dealt with.
And how Lu-Tze finds clever ways to avoid fighting. And how Lobsang is mystified by his own talents. And how the head of the History Monks has been reincarnated as a baby and has to do History Monk business while also demanding food and a diaper change. And how Nanny Ogg is recruited to handle a special birth.
And how Ronnie Soak goes back on the road.
"Wash it?"
All of these characters are one of the strengths of Thief of Time. They are also, from my point of view, a minor weakness
This is an ensemble book. All of these characters have been recruited for a story that Pratchett wants to tell about time, employing a lot of modern theories about how time isn't exactly what we think it is.
This permits him to play around with time being stopped and with ways in which Lu-Tze and Lobsang are able to travel quickly through time and with the conundrum of how a yeti can have its head chopped off and then show up with it firmly attached.
At one point, on a very beautiful — indeed, perfect — day, Wen, the head History Monk, is telling his acolyte Clodpool that he will create a monastery and make sure that every day thereafter will be "this perfect day."
Clodpool is confused, worrying that it might get a bit repetitive.
"That is because you don't know how to deal with time. But I will teach you to deal with time as you would with a coat, to be worn when necessary and discarded when not.

"Will I have to wash it?"
Clodpool
I am Clodpool.
What I mean is that all Pratchett's talk about bending time and snipping it up and stitching it together — it all goes over my head. Pratchett is a writer who likes to play with ideas like this, speculations about time, space, matter and other scientific stuff.
I'm the kind of guy who talks about "scientific stuff."
So, this is one area of Pratchett's storytelling that, perplexed and befuddled, I'm just along for the ride.
It reminds me of when I would read one of Patrick O'Brian's 20 novels about Captain Jack Aubrey of the Royal Navy and his ship's surgeon and close friend Stephen Maturin around 1800. O'Brian would describe something about the rigging of the sailing ship or some maneuver of the vessel, and, frankly, I had no idea what he was talking about. Couldn't visualize it. So, I just trusted him and keep reading since the rest of the story was so rich and delightful.
"Temporary collection of atoms"
The same is true for Pratchett, and for Thief of Time.
I may be bewildered about all his time play, but I trust Pratchett and keep on reading since I know he is going to provide so much fun, interesting, insightful stuff.
Such as Susan's abilities as a human and more:
Well, she was partly immortal, and that was all there was to it. She could see things that were really there, she could put time on and take it off like an overcoat. [That, I can understand.] Rules that applied to everyone else, like gravity, applied to her only when she let them.

And, however hard she tried, this sort of thing did tend to get in the way of relationships.  It was hard to deal with people when a tiny part of you saw them as a temporary collection of atoms that would not be around in another few decades. [Hence, her intense interest in an offspring of Time.]
Such as Myria LeJean who, by this time, has changed her name to Unity:
"I am insane.  I know this.  But the first time it happened to me I found such horror that I cannot express it.  Can you imagine what it is like?  For an intellect a billion years old, in a body which is an ape on the back of a rat that grew out of a lizard?  Can you imagine what comes out of the dark places, uncontrolled?"
Such as when Death explains why the Auditors have stopped time:
"IT IS THE FEAR AND HATRED THAT MATTER HAS FOR LIFE AND THEY ARE THE BEARERS OF THAT HATRED."
"ANGEL CLOTHED IN WHITE"
And such as the angel who shows up for the Apocalypse only to learn from Death that he's been written out of the scripture:
"YOU ARE THE ANGEL CLOTHED IN WHITE OF THE IRON BOOK FROM THE PROPHECIES OF TOBRUN, AM I CORRECT?  I DON'T KNOW HOW TO TELL YOU THIS BUT YOU ARE NOT OFFICIAL.

"THE BOOK OF TOBRUN HAS NOT BEEN CONSIDERED OFFICIAL CHURCH DOGMA FOR A HUNDRED YEARS.  THE PROPHET BRUTHA REVEALED THAT THE WHOLE CHAPTER WAS A METAPHOR FOR A POWER STRUGGLE WITHIN THE EARLY CHURCH.  IT IS NOT INCLUDED IN THE REVISED VERSION OF THE BOOK OF OM, AS DETERMED BY THE CONVOCATION OF EE."

"I've just been thrown out?  Just like the damn rabbits and the big syrupy things?"

"YES.

"Even the bit where I blow the trumpet?
Only Pratchett could come up with an exchange like that.
Yes, I got confused at times in Thief of Time with all the time talk, but, as always when I read Pratchett, I had a good time.
Patrick T. Reardon
10.26.21