A book means something different to an author than it does to a reader.
Actually, each reader has a personal experience of the book, different in small and large ways from the experience of every other reader. But all of them are coming to the book as a completed thing.
The author, by contrast, started the book with a blank screen or blank piece of paper. For the author, a book is something that was created.
The author has given birth to the book. Readers meet the book out in the world.
During his long literary career, Elmore Leonard produced 45 novels. His 37th, published in 2002, a little more than a decade before his death, was Tishomingo Blues. That's the book that, on his website, he said was his favorite because "I had the most fun writing it."
I can see how it might have been fun to write.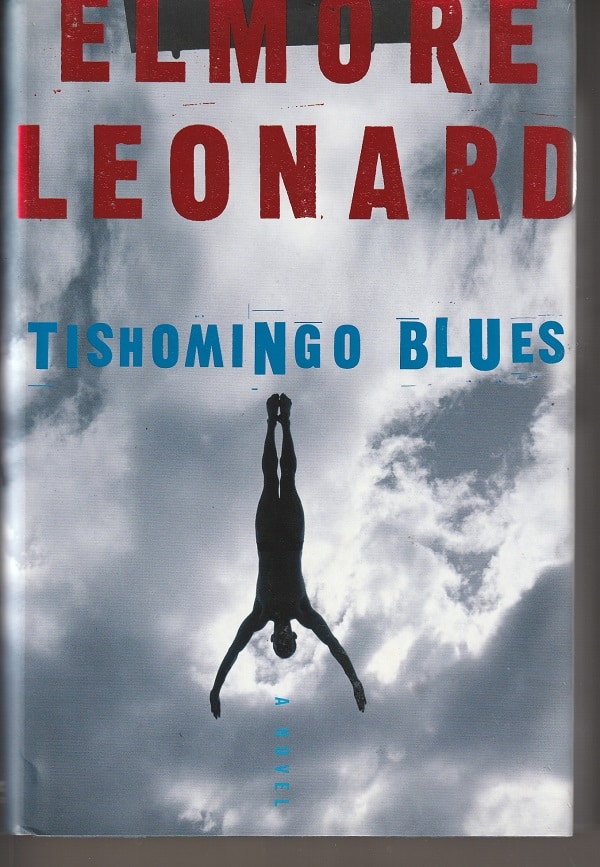 It features a professional high-diver named Dennis Lenahan who, from his 80-foot-high platform, witnesses a murder down on the ground — and is spotted by the killers, two less than intelligent members of the Dixie Mafia. But as long as Dennis keeps his mouth shut, and as long as no one else can tell the cops that he was where he was when the murder took place, he will be OK.
"I saw you dive"
Enter Robert Taylor, a preternaturally cool African American whom Dennis first spots on his hotel's patio:
A black guy. But not one of the help. No, a cool-looking young guy in pleated slacks, a dark silky shirt open to his chest, a chain, the guy slim, about Dennis' size, the guy starting to smile. Dennis got ready to nod, say how you doing and walk past.

The guy said, "I saw you dive," and Dennis stopped.
Then, it's off to the races.
Dennis and Robert find themselves sympatico even though the diver doesn't completely trust anything the cool guy says, such as when Robert shows him a photograph of a black man lynched on a bridge. The man, he tells Dennis, is his great-grandfather. And the guy on the bridge is the grandfather of Walter Kirkbride who has a mobile home business in town and maybe some other stuff going on.
Other imperatives
As it turns out, the lynching victim may not be Robert's great-grandfather, and the guy on the bridge may or may not be Walter's grandfather, but, by the time these questions arise, other imperatives are pushing forward, such as who runs the drug traffic in the area and who will do so in the future.
There's a lot of jockeying around, and the plot moves to a climax at a Civil War reenactment in which Walter and his Dixie Mafia friends as well as Robert and his Detroit friends — and Dennis — have several showdowns.
There's a lot of cons going on in the novel, and you almost need a program to keep them straight although keeping them straight doesn't appear to be a priority. There's also a lot of talk about selling your soul, as in Robert Johnson's song.
I think I can see how Leonard had fun writing the novel. My guess is that he loved the challenge of layering on as many slices of plot as he could and of getting his quirky characters to act their quirkiest.
But I came away disappointed.
I was looking for more snap to the various plot lines. The ending, which seemed to leave the door open for the appearance of Robert in a later novel, seemed slack to me. Alas, and alack.
Of course, other readers will have their own reactions.
Patrick T. Reardon
8.17.23